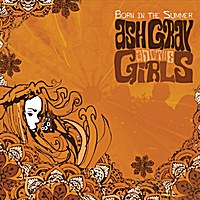 Ash Gray and The Girls are back with their famous oldies sounds on the new album 'Born In The Summer'.   Just as this group brought the 60s to life on their first EP 'This Could Be A Wild Night' (http://skopemag.com/2010/02/12/ash-gray-and-the-girls-this-could-be-a-wild-night), they take a trip through time once again.   Many people might think that Ash Gray And The Girls were born during the wrong era but I don't think so at all.   What I think is that Ash Gray And The Girls were born during the perfect time to make sure that this great style of music never dies.  
This retro band now features Nina Murphy & Sara Wise on vocals and I'm here to tell you that these Girls can sing!   The vocal harmonizing between singer/songwriter, Ash and his Girls is what makes this recording so special.   The songs are harmoniously brought to life through power house singing on 'Born In The Summer'.   Classic rock and folk is the groovy mojo that Ash Gray And The Girls have in them.   The album starts up with a little psychedelic flavor on "Purple And Gold" and then the record ends with a song that sounds like it was literally recorded in the 60s on "Bus Stop".   The guitar playing, particularly acoustic, is performed very well to go along with some very nice 'n' smooth percussive elements.
The magic is there for sure as Ash Gray And The Girls give listeners a dose of nostalgic music that can stand the test of time.   Whether it's 2012 or 1968, you don't have to jump in the futuristic DeLorean to enjoy those cool, throwback grooves that dominated the air waves.   Whether you grew up during the 60s or you're just a kid now, everyone can once again soak up this timeless era.   The beauty of this recording session is that it features 11 gems for then & now.   Ash Gray And The Girls invites ALL, young and old, to enjoy 'Born In The Summer'.
By Jimmy Rae (jrae@skopemag.com)
[Rating: 5/5]