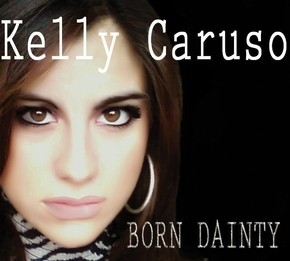 Kelly Caruso, who grew up in Pittstown, New Jersey has just released her first single on the Bongo Boy Record label with a great music video. Kelly who has been singing since a very young age, has made it twice to Hollywood as an American Idol, first on season 6 in 2007 and again on season 9 in 2010. She also won the MTV Say What ?! and Jersey Idol on New Jersey 101.5FM.
[youtube 9-Hsux-NOKA nolink]
This single "Born Dainty" was written and produced by veteran musician Gar Francis and recorded and co-produced by Kurt Reil at the House of Vibes in Highland Park, NJ. Many may know of Gar as the guitarist/songwriter from the 60's garage rock band The Doughboys. Kelly has been fronting the band Garden State Radio and has been touring all over the country at various night clubs and casinos to packed houses everywhere.
"Born Dainty" a modern country rocker shows off an incredibly powerful voice that would give Kelly Clarkson, Carrie Underwood or Miranda Lambert a run for their money. "Born Dainty" is a download single at iTunes: http://itunes.apple.com/us/album/born-dainty-single/id504952129 and CD Baby, Rhapsody, Amazon, or any other major source for downloading music.