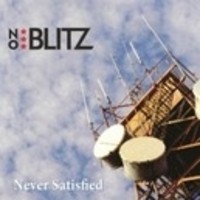 Get ready for the band No Blitz as they come fast & furious on their 4-track EP.   The four songs on this recording are in anticipation of the group's full-length, debut album titled 'Never Satisfied'.   No nonsense and No cheap imitations is what No Blitz is all about.
The Virginia-based band is made up of a four-man roster that includes: Ryan Wogh on lead vocals & guitar, James Cichra on guitar, Dan Horner on bass and Shane Steenberge on drums.   An interesting fact though is that three of the members can play drums and all four can play guitar, which makes for quite the musical bunch.   The No Blitz official lineup was just completed last year yet the group has already opened for Fuel & Parlor Mob!   Not bad for a group that doesn't even have an album out yet but don't forget that No Blitz is 'Never Satisfied'.  
The core of the EP is definitely centered around rock however I did pick up on a little punk influence on the opening, kick-off song "Unreal".   As we move along, one will notice right away that No Blitz has that play hard or go home mentality when you hear them perform.   Energy galore that comes across as raw and rock-heavy is what you will experience on the EP.  
What I love most about these musicians is that it just sounds like four guys havin' fun, jammin' together and they figure why not make a kick-ass record while we're at it!   The approach comes across as very natural and in turn something that the listener can definitely appreciate.   You will never get the same old thing but rather always fresh 'n' new material from No Blitz as they deliver 100% satisfaction guaranteed!   I look forward to hearing the debut release of 'Never Satisfied' and so be on the look out for a No Blitz attack.  
By Jimmy Rae (jrae@skopemag.com)
[Rating: 4/5]