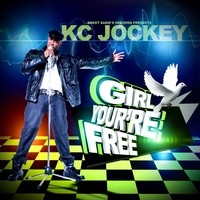 KC Jockey is a pop/r& b artist from Brooklyn, New York. Having been born in Jamaica and moving to New York at a young age must have done good things for his creative side, as his music seems to effortlessly unite the dance hall/traditional party music of Jamaica with the urban pop/club scene of the United States. You can call him many things, but one thing you can't call him is lazy. The man has appeared in major motion picture films, gotten deals as a model, owns and operates his own record label, and even had a stint as an official spokesperson for a popular energy drink. His latest musical offering is the new single "Girl You're Free".
KC's voice is smooth and compassionate, as he puts himself in the position of advising someone who is trying to move on and live a new life. According to KC it is "the story of a woman who has finally summoned the courage to break free from her abusive and oppressive relationship." Not your usual pop/r&b fodder, and he sounds sincere. Most pop music doesn't attempt to tell a story, but KC Jockey delivers one that just about anyone can relate to on some level. This alone would make "Girl You're Free" worthwhile if the music and production weren't top notch as well. Futuristic samples, warm synths and an infectious beat make this track progressively more addictive as it goes on. In fact, there's more to the production than meets the eye. The samples flow together as if trance/hip hop master producer Araabmuzik was on board.  
The chorus provides an anthem-like chorus overflowing with emotion and charisma. Somehow this is a similar style to artists like Akon, but the sincerity resonates in a much stronger way. This is straight pop with a message I'd like to hear more in pop music.   If "Girl You're Free" doesn't become a full-fledged hit single it will be a shame for mainstream radio.
James Moore @ james@independentmusicpromotions.com
[Rating: 4/5]