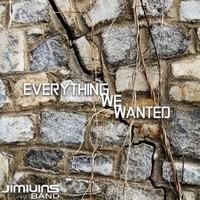 The Richmond, VA bunch is back again with their new EP titled 'Everything We Wanted'. Following up their 2009 self-titled debut release, (http://skopemag.com/index.php?s=Jim+Ivins+Band), Jim Ivins & company have some fresh new sounds for you.   Staying in the realm of pop/rock with acoustic elements added in, The Jim Ivins Band is giving you everything you possibly want out of a well-written/well-played EP.  
Members include Jim Ivins on lead vocals & guitar, his older brother Jack Ivins on drums, Drew Martin on guitars and Bobby Gary on bass, piano and keys.   All songs are written by Jim Ivins with the exception of one track called "Lost My Mind" with additional lyrics by Bobby Gary.   Jim's voice comes across as finely-tuned and refined   with the material being equally as rich.   All seven tracks on 'Everything We Wanted' are catchy as hell and the EP exhibits a pop/rock model that really works.   You're not hearing that same old soda pop mumbo jumbo that seems to go flat every time due to zero flavor and no original taste.   Not at all my friends, what you are getting from this new project is a refreshing set of flavorful numbers that is sure to invigorate your senses.   You can look at 'Everything We Wanted' as a real thirst quencher because one will experience well-rehearsed, quality-driven music right before their ears.   Whether you're new fans or old fans or just music enthusiasts, you will definitely appreciate all seven satisfying tracks on the new recording.  
I also enjoyed the guitar parts that were blended in nicely to the whole mix.   I was a fan then and I am even a bigger fan now!   I would imagine that 'Everything We Wanted' will catch the attention of many and if not then something's wrong.   This young Virginia band has grown so much in just three short years and so I feel the best is yet to come! For more info on The Jim Ivins Band and their new EP 'Everything We Wanted', SKOPE out www.facebook.com/thejimivinsband.    
By Jimmy Rae (jrae@skopemag.com)
[Rating: 4.5/5]