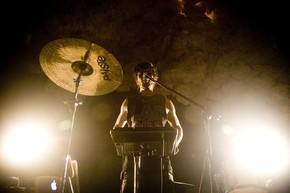 In numerous of my articles I talk about people in the business and their goals and what they did to get where they are today. It is a good rule of thumb to study others who are already making a living doing what you want to be doing. Their journey can help you find your place in the business and eventually find your own niche. D. Gookin is no stranger to hard work but has his own ideas, and well, it's been working pretty good for him so far.
Mike Birnbaum, aka, D. Gookin is a songwriter, producer and percussionist based in Brooklyn. He writes his own style of uplifting tunes. There is no brooding in Gookin's corner, he takes a plethora of all types of emotions and compacts them in a nice package that affords you to get lost in the moment and forget all your worries.
Music seems to be a lifestyle for Gookin. He started his journey at a very young age. He was playing piano at 5 and later guitar and then assembled his own beat-banging out fit designed out of old tin cans. His parents finally sprang for a brand new drum kit and well, I guess you can say the rest is history.
He went on to create his first EP, "When You're Lonely, Everybody's a Celebrity", a very cool title by the way, and that was the first of many to follow. He now has quite a catalog of music under his belt and returns with his latest release, "Spiral Style". Many people ask about the origins of his stage name. D. Gookin is a character (Deacon Gookin) from a Nathanial Hawthorne short story, "Young Goodman Brown".
[vimeo 30519686]
Gookin said, "It's like a weird graffiti tag name."
Well, I think it is cool and so is his music. He has a carefree attitude and that freedom has allowed him to produce many different styles of music. Gookin continues, "I am excited about how open ended I have established my thing to be; being a solo producer who has made music in a wide range of styles. There are very few genres of music or directions that I wouldn't pursue."
The beauty of art is that it is subjective and everyone has their own view in how they see the world and music. Gookin grew up in an environment where classical piano and violin were being played around him all the time. He feels strongly that influence is what shaped his sensibilities but also forced him to pursue music in a radically different way.
It takes a lot of hard work, networking and socializing to get your name out there and to be heard. Gookin says social media is a large part of that and encourages anyone with an unusual style to utilize those tools in order to build your fan base.
He has a business mind with a free spirit that is paving a way for a new kind of artist. He has clearly set goals for himself in order to accomplish what he has this far. When I asked him what his next steps were he responded with a chuckle, "this question makes me realize how few literal 'goals' I have with my music. I just try to always make stuff I am excited about and hope the amount of fun and excitement gets reciprocated in the music. One real goal though is to play at outdoor music festivals. If I get to that level I would feel very sated."
I do not see that very far away in his future. D. Gookin is an interesting soul submerged in the one thing that brings happiness to a gloomy period in American history and that is FUN. Who doesn't need more fun in their lives?
He seems to have a full schedule coming up, just to name a few,
March 20th – The Cove, Brooklyn
March 31st – Brooklyn loft, details TBA
April 11th –   BAR, New Haven, with/ Body Language
April 21st – Middle East Club, Boston, MA
He is also working on a new EP of electronic reggae songs coming out in May. I am extremely interested in hearing how that will turn out.
Everyone has a story and D. Gookin's is as entertaining as it is interesting. Taking the little steps that are creating the larger ones and he is doing it all, in his own way.
http://dgookin.bandcamp.com
http://dgookin.com
By: Rebecca Hosking @ hoskingrebecca@gmail.com