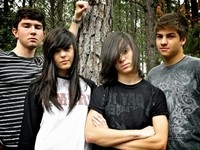 Act Thirt33n are a young pop alternative/emo band from Atlanta who have already played some impressive venues such as the Hard Rock Café's Velvet Underground and Taste of Atlanta. Consisting of Alec Ragsdale (lead guitar, vocals), Andy Morgan (lead vocals, rhythm guitar), Ashley Smith (bass and background vocals) and Pat Meisel (drums), this act is hoping their sound will have a wide appeal in punk and emo rock circles. Inspired by acts such as My Chemical Romance,   A Day to Remember, and Emery, their debut EP is called "Salute and Smile".
"Shine" has a classic emo sound, if not somewhat predictable for the genre. All the same, the musicianship is there and the band can play. Andy Morgan's vocals are surprisingly charismatic, and although things get slightly pitchy on the chorus, he shows a knack for phrasing and dynamics, just like the band. And it should also be noted that vocals are supposed to be somewhat raw in this genre of music, so it's not an issue here. There is an inspired feel Act Thirt33n is capturing as a band. If you're not a fan of the pop punk or emo genres, chances are you won't be swept up, but for fans of these respective genres, they hit the mark, and "Shine" is a worthy anthem.
"Sic' Em Boys" finds them flexing a bit more punk rock fury and a call-and-response vocal between Andy Morgan and Alec Ragsdale slightly similar to acts like Thursday. The megaphone on the 2nd verse shows a seed of experimental At the Drive-In type potential that Act Thirt33n could easily grow into on future releases. With hints of aggression and rock n' roll, this song shows versatility and confidence.
"Rabbit" is dreamier, with a shoegaze influence and a wall of thick guitars. The keys on this track really elevate the song, and they're so well placed that you barely notice them at first. The band shows their affinity for gang vocals and it works greatly in their favor. "December Thieves" has a beautiful intro and some very strong lead vocals from Andy Morgan, as well as harmonies from bassist Ashley Smith. Had this release been more heavily produced, this would have easily been a radio single. Call it a shoegaze slow burner. Go ahead and bob your head. It's ok. I'm doing it too. "Last Breath" sounds more specifically directed towards the kids who go to Act Thirt33n's live shows, and a filler track on the release. At the same time, it could very well be a favourite amongst their fans.
Act Thirt33n's "Salute and Smile" should be considered a demo because of the very indie production, although this is not a problem for a few reasons. The production gives the release a very underground, early 90's sound. This is also a debut release from a young band, and they achieved what they set out to achieve. It's a "scene" release in the sense that it's not offering anything new stylistically, but the band prove themselves as worthy of continuing their growth with a follow-up that could be quite strong. Each band member is talented and have good song-writing sense, so the future could be bright.
By: James Moore – james@independentmusicpromotions.com
[Rating: 3.5/5]