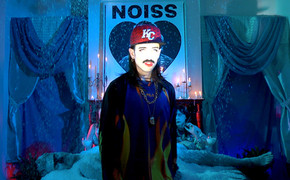 Nothing in recent musical memory is as captivating as the fervor that has grown around Cody Critcheloe and the coven of plasticene Queens and Fila-chic Warlocks he affectionately refers to as SSION. As a matter of technicality, SSION is Critcheloe's project alone, a self-contained cosm replete with its own dress-code, lexicon and moral standards, but through his music, video art and performance he emphasizes that the world of SSION is an inclusionary one.
[vimeo 37683135 nolink]
Critcheloe began performing as SSION in 1996 in Kansas City, MO, making this the third decade the group has seen, a datum that the ever-rotating cast will attest to.
"My Love Grows in the Dark" is the lead single off of Bent — out Summer '12 on Dovecote Records.