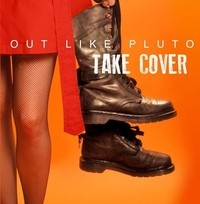 Out Like Pluto is an alternative pop/rock from Seattle, Washington who state clearly that "they're not here to revolutionize music, but do want to make you dance". Fair enough. Both revolution and dancing can be critical, but of course, most people would choose a good dance if they could only take one. The band's new album "Take Cover" (released on January 10) was mastered by Gavin Lurssen, who has also helmed release for acts such as Blink 182, All Time Low and Alien Ant Farm. With a ton of touring planned in 2012, Out Like Pluto hope to fill the void left by the breakup of the extremely popular pop/punk/alternative band No Doubt.
"Where to Begin" starts off with the simple delivery of Out like Pluto's bio's promise — this is very danceable, well-produced music with a cheeky, party rock vibe. Decidedly un-intense, this is no Garbage or The Cranberries — the goal is good times and body movement to be sure. The band is more than proficient, and they seem to have all the ingredients necessary. You couldn't really get much tighter than this musically. Kari Tarr's vocals are sweet and thoroughly pop-punk influenced, with just enough attitude for teens to love but not enough to offend their parents.
"Bridge" sounds Blink 182 inspired, and the track has strong radio hooks; this would be a perfect single for the band. Straight up, sugary pop music, and the quality for this market is top notch. "Rocco" takes a more interesting musical approach, with some great gang vocals and instrumental breakdowns, as well as a fast-paced groove which works well for the band. I would guess that their original sound was more like this before taking effort to appeal to a wider mainstream audience. Such is the nature of the music industry.
"Early Warning" slows the pace, adopting a club beat; you can even hear some Lady GaGa influence here, and that's a good thing in the context of this album. It seems that every track so far would do well on mainstream radio — I don't envy whoever has to choose singles for Out Like Pluto. With electro-pulsing synths and some very hooky progressions, the band is all over this song, and Kari Tarr shines as well, showing presence and a keen singer's ear.
"Cellar Door", most likely named after the reference in the cult film "Donnie Darko", is an unexpected atmospheric instrumental that certainly leaves some room for the band to grow on future releases. Well done.   "Autopilot" hits hard with the guitar riffage, and once again the band excels. The delay on Kari Tarr's vocal makes her sound imposing and charismatic. Even if you're not into radio rock, this particular track has enough of an energy surge to win you over.
"Starring John Stamos" is pleasant, albeit not as exciting as some of its predecessors. "Are We There Yet?" picks up the pace with a hard-hitting Red Hot Chili Peppers influence, and shows you some more of Out Like Pluto's punk roots. "Papercut" finds the band attempting a ballad, and it's a decent attempt, although it's tough to buy an emotionally charged track from a dance rock band. Best to keep the momentum going. "Placebo" closes off the release, where both the tempo and the pop rock return. The band deliver another very catchy chorus; this one showing more single potential with its sing along quality.
Whether you enjoy Out Like Pluto or not will most likely depend on how much you enjoy artists like Blink 182, No Doubt and Simple Plan. While it's not entirely my thing, I also recognize that they are excellent at their chosen niche. Music repeats itself all the time and it's not always necessary to provide something new. "Take Cover" is a more-than-solid release with a charismatic singer and a talented band that should appeal to fans of pop punk, radio rock and pop music.
Independent Music Promotions – james@independentmusicpromotions.com
[Rating: 4/5]