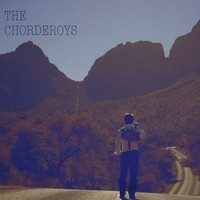 Sometimes I wonder what Geddy Lee would sound like singing over fast-paced, Western country-billy music. I'm lying. I've never wondered that in my life, but it's the first thing that came to my mind when I pressed play on The Chorderoys new EP "No Man's Land", particularly the opening track "Train". The hyper pace is necessary to get the listener on board for the ride. The guitars are twangy and not over-produced, which was the right choice for the mood. The progressions and chord choices show a band that's both seasoned and at the top of their game creatively. The lead vocals are engaging and do the job; crisp, clear story-telling with perfect pitch, even if they come up slightly short in the depth and emotion departments that other sonically similar acts like 16 Horsepower and The Smalls excelled at. The Chorderoys are aiming at a slightly more mainstream sound, and there's nothing wrong with that. This is a solid song.
"No Man's Land" is more indie rock than gritty, southern rock to be sure, and this is evident in the 2nd track "Docile Girl", a ballad that croons the very appropriate lines "If love won't come, then go"; a phrase most of us can relate to with the unique attachment/resistance aspects of our neurology. We want something, and if we can't have it, we want it gone or destroyed. Making the right choice with the theme, The Chorderoys bring the energy to healing, accepting and hopeful territory musically as our protagonist presumably opens her arms to the potential of receiving love once again, perhaps from a more grounded perspective.
"High Horse" takes you aboard the train once again with a common theme; "Your high horse is kicking. Won't you get off my back?" The bass, guitar and drum work in this track are unbelievable; just when I was beginning to think the song wasn't going to get off the ground, they take multiple unexpected turns and really show hints of brilliance. Greg Denn's lead vocal shines as Jon Denn and Andrew Simmons dig into a mean half-time barrage, turning the piece into a slightly more reckless animal. It's over before you know it, and this is another sign of mature song-writing; leave them wanting more. Musically this is very engaging stuff, but they make the choice to keep it short and to-the-point.
The album closer, called "No Prayin Man", with its muddy guitars and thumping beat, is a good forum for some deep-seeded confessions, and it sounds reminiscent of something the Queens of the Stone Age could have dreamed up, but it doesn't quite lift off. The band is on point as always, but the vocals are missing something subtle here. I can't put my finger on it — whether a bit more baritone and grit would give this music more liftoff (yes to that) or if a few more original vocal line choices and perhaps an abrasive amount of reverb to set more of a sobering energy (that could work too) would match the music and vocals better. While all elements are up to par and more than adequate, the force, or charisma, is absent here somewhat.
Overall, The Chorderoys strengths overcome their weaknesses on "No Man's Land", and they prove themselves both musically adept and sonically on point. There are hints of brilliance here that could definitely turn into something special and unique on future releases.
By James – james@independentmusicpromotions.com
[Rating: 4/5]