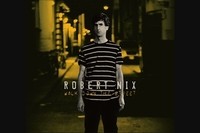 Sometimes an artist emerges from so far left field that it wakes you up out of your slumber. It gives you a reminder of who you are, what your potential is, and of course, what the potential of music is. Like a shot of cinnamon whiskey dumped in my alpha bits, Robert Nix shocked me in a most pleasant way when I began listening to his new album "Walk Down the Street". I had to turn it off after 3 seconds in order to process the information; it was coming at me fast like a psychedelic experience. The title track spits electro fire to back up Robert's haunted crooned minor notes reminiscent of David Byrne of The Talking Heads. Walking down the street never sounded so interesting and forbidden. At once panicked but wide-eyed, disturbed but fearless, there is something indescribably spiritual about this piece that seems to morph into a dozen different forms as it progresses. Robert asks "Are you just another person walking down the street to seek the truth?"
"The Painter" keeps the child-like wonder and eccentricity both coming in full doses. Robert Nix tackles his topics here in the same semi-sarcastic yet sincere way that The Talking Heads typically did. While this track lacks some of the soul-stirring power of the title track, it's colourful and interesting. "Should You Should I" calms some of the spastic inclinations and opts for a more melodic approach, and the results are dreamy and gorgeous. Brian Wilson would approve. The atmosphere is rich and full of treasures.
"I Hope" is another dream gone slightly awry, and Robert Nix wouldn't have it any other way. Menacing guitars and sneaky progressions abound, "I Hope" is most certainly musical schizophrenia, with its calming verses and surprisingly mean chorus, like a recently "saved" person with a horrible temper.   "Life's Rules" finds Nix singing "Don't you know now that you have your free will, and I can see that it's an unused skill" in another dark observation that touches the same spirituality of "Walk Down the Street".
Other highlights from the album include "Preying Machine", which delivers a damning message to the at-times extremely aggressive religious world, and it comes off as one of the most sincere expressions and clear messages on the album. Yes, it would be wonderful if we stopped trying to push our ideas on each other. Like Mr. Nix, I don't expect that to happen any time soon, but I can enjoy the idea. "Don't Eat The Animals" sounds like an appropriate companion to "Walk Down the Street", and a chilling closer to the album. At this point, I can't seem to find Robert's lyrics online, but I really want to pick his brain.
Rather than a full-on track by track breakdown, what's most important to convey about Robert Nix is that he is great. Every song is good. I don't say that all the time. Robert fearlessly expresses a unique perspective, and his music fosters mental and spiritual growth, in my opinion.   There is true wisdom here. It's much easier to respect a musician like this who stands as himself without trying to be anyone else, especially a pop star. Strangely enough; because he is so fascinating and unique, he may just become a star on his own merit.
By: James – james@independentmusicpromotions.com
[Rating: 5/5]