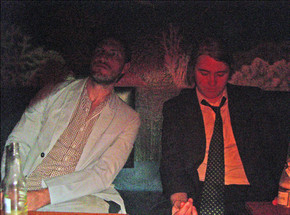 NTRLR, the psychedelic/electronic rock duo, reminiscent of fellow bands such as Yeasayer, Panda Bear, & Fuck Buttons have burst out from the black hole of creative collaboration with their first single "Kursk". Available now for free download, the buoyant guitar heavy track coupled with haunting vocals and pulsating drums is guaranteed to get a foot or two tapping to the beat of its beguiling sound.
"KURSK" AVAILABLE NOW FOR FREE DOWNLOAD:
KNTRLR is Charles and Michael–two individuals who came together from opposite worlds. One a former child actor, the other a former fringe Christian on track to attend Seminary School.