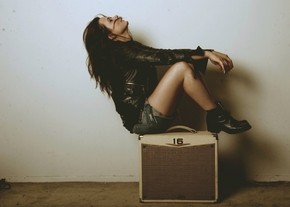 While her roots lie in the U.S., Kuney has been getting a lot of love north of the border. Her song Gasoline Rainbows hit #1 on the Canadian Rock charts after it?s release as the title track of a benefit album for the Gulf oil spill of 2010. This album featured Kuney alongside Phoenix, The Black Keys, The National, and many others. The song was subsequently featured on a recent episode of So You Think You Can Dance Canada.
[youtube Www3LLdgh5c nolink]
Since then, Kuney hasn't wasted any time in making that dream come to fruition. She has been recording music and touring from coast to coast, sharing the stage with Damien Rice, Kate Voegele, Gavin Rossdale, Jason Reeves, and The Veronicas among others. She has locked herself away for the past few months, writing and co-producing new music.