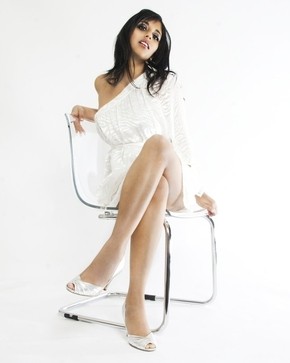 A new trademark sound is set to change the Dance music world with the release of Stephanie Braganza's debut of riveting originals. Showcasing commercial Pop, Euro-Dance and Electro-House, Stephanie has been performing at such notable venues as The Exhibition Center (Masala! Mehndi! Masti! Festival), as well as touring and having radio spins all over Canada.
Stephanie Braganza is a powerhouse vocalist and performs her music with a full band, including co-writer Colin Stewart. She studied with such greats as Juno award winner Rik Emmett (Triumph), Pat LaBarbera, and Trish Colter.
"Painting Rainbows" MP3: http://k003.kiwi6.com/hotlink/5pq934bofp/01_painting_rainbows.mp3
Her track "Fantasy" reached number five on the beatsdigital.com charts, and Stephanie was invited to sing with rap artist Belly and Ginuwine at the Muchmusic Video Awards. This year she has been nominated for the coveted 2011 Toronto Independent Music Award (Electronic Category).
Stephanie Braganza is a sparkling singer whose star is on the rise. Check out more online at www.StephanieB.ca or download the Stephanie B app for iPhone and Android Phones. Look out for her new single "Good 2 Be" out soon!