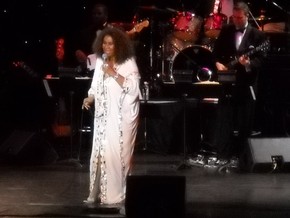 Dispelling any rumors that Aretha Franklin is in bad health the 69 year old came on stage Friday night looking noticeably thinner, incredibly beautiful and her voice sounding as strong and powerful and as rich as ever.   She was accompanied by The Aretha Franklin Orchestra which she said on entering the stage "plays the music properly".
 
She sang some of her classics that had the crowd going wild, including Natural Woman, Chain of Fools, Freeway of Love Baby I Love You.       She told a story about a famous jazz singer who was in the audience one evening and she asked him to come up and sing.   It was James Moody who had the hit song Mood for Love.     Aretha said at 85 he wore her out on stage.     When Aretha went to the piano she said she was pulling from the Simon and Garfunkel song book and began playing Bridge Over Troubled Waters and continued in a gospel vamp that was intoxicating.   Aretha sang the title track from her new CD, "Falling Out of Love' which had me grasping my partners arm and welling up with tears. She ended the performance with   Respect bringing the house down.
 
Aretha has a limited tour schedule so if you are lucky to get a chance to go, I would highly recommend it.   The performance I attended was in the beautiful showroom at Mystic Lake Casino in Shakopee Minnesota.   The venue only seats 2100 so there is an intimate feel with great acoustics.   They have a large video screen on each side of the stage that showed live shots as well as photographs of Aretha's father, family and photos from her long illustrious career.   The show sold out in 2 days.
 
Aretha Franklin is has a sweet demeanor and the ability to touch you deep inside in an inspirational and loving way.   I will never forget going to this concert.   (Thanks to my lifelong best friend Deb Smith).
Diana Olson – diolson05@yahoo.com