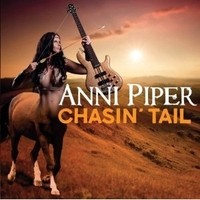 At almost one year to the day, Australian blues maven, Anni Piper has followed up her Stateside debut album with Chasin' Tail, a full-length 11-track album of her trademark rock-laced blues tracks. And in good keeping with the former, Tail is replete with Piper's deep, sultry vocal delivery, Sam Buckley's wailing guitar prowess and the musicality of an industry veteran. Be forewarned, this is not your dad's blues album.
Tail opens to "Amazon" a heavy, agro blues rocker. The opening guitar feeds the intro to Piper's deep, throaty vocal delivery and the combination sounds the likes of Chrissy Hynde sharing a stage with Stevie Ray Vaughn. Title track "Chasin' Tail" continues the same vein, with more opening blues-laden guitar work with the rhythm section joining gradually around the riff. Again, Piper's sultry, urgent vocals stand at the forefront of the track. "Chi Sau" is the first pace changer with its down tempo delivery and a full removal of the rock element. Piper croons her way through the track as the tempo plods along. The thus far wail of Buckley's guitar work only makes intermittent appearances by way of fills until the midpoint solo which sounds of the Pink Floyd solo a la "Shine On You Crazy Diamond." "Highway Time" retreats ever so slightly from the typical format. While Piper's vocals are still a formidable force within the track, this song is all about guitar and more guitar. Buckley flies out of the gate with funk riff work and clever fills that eventually yield to heavy wah effects. And with roughly 2/3 of the song dedicated to a ridiculous guitar solo (nearly three minutes long) Buckley leaves nary a fret untouched. The guitar onslaught continues with "Bleeding Heart Tattoo" with heavy blues riff work sitting shotgun with Piper's vocals. Again, as soon as a verse ends, Buckley slays his guitar strings with a bent note screaming solo. This is just further proof that the guitar/vocal tandem carries the album from track to track.
Piper has already racked up accolades for her commitment to her craft and Chasin' Tail is just the next progression in a line of good, contemporary blues albums. Her ability to blend rock and blues effortlessly is surely a multi-result of surrounding herself with the right people (namely Sam Buckley and his guitar prowess) and a deep love of the genre. This album, simply put, is Piper wearing that love on her sleeve.        
by Chris West – cwest@skopemagazine.com
[Rating: 3.5/5]