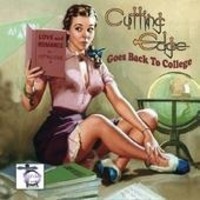 One of the most original & creatively driven bands in the universe, Cutting Edge, 'Goes Back To College' to figure out this constant love-hate relationship we have with each other in this thing called life.   What Cutting Edge has brought to the table on this new record are songs about anti-war, relationships, government control, equality of women, love & loss, temptations and can't forget good times.   Staying true to being extremely eclectic, Cutting Edge has put all of this material together to make up one BIG EXTRAVAGANZA of DIVERSITY!   Cutting Edge believes in variety within their music and you will definitely get your fill of that on 'Goes Back To College'.  
[youtube fqHIAvopMxY nolink]
Right from the cover art, I'm observing an image of your girl-next-door in a sexy school girl outfit holding a book called 'Love and Romance By Cutting Edge'.   This good-girl, bad-girl character is dressed as if it were the 50s maybe and on the back women hanging out together in their lingerie appear to be of that same era also.   So right away, you're getting the idea that this picture paints a portrait of a throwback to pure innocence vs. naughty sexuality.   Cutting Edge has most certainly got your attention by stimulating your sense of sight but what will follow in the area of sound.
"Love Police" Live:
http://k003.kiwi6.com/hotlink/6udo82lgby/cedge_lovepolice.mp3
Well, let me first tell you that there are 15 tracks but it wouldn't be a Cutting Edge party without some club-friendly remixes.   Ricky Ric is back with 4 blazing hot tracks: Dance Radio Mix for "21st Century Woman", Officer Busty Mix & Radio Mix for the song "Love Police" and the first ever Latin Radio Mix for "Body Talk".   You'll also experience a Guiseppe D. Mix for "Love Police" & "She's Got A Brain" and a Chris "The Greek" Mix for the song "Every Time I Try".   These DJs are spinning out catchy dance beats that will make you bob your head and move your body.   If you're not getting' your groove on then something's wrong because Ricky Ric & company are bringin' it & makin' it happen!
The CD opens with a song titled "Venomous Love Affair" that has almost an exotic vibe that really moves with David Pesnell incorporating his unique chat-like vocals.   "21st Century Woman" is for all the strong, independent women out there while "Puppet of the Beast" is telling the government to back off.   "Puppet of the Beast" comes with a hard rock/heavy metal approach that includes that distinct Pesnell vocal delivery once again.   Track four, "Losing You", is an emotionally-sung ballad that is incredibly touching and really tugs at your heart strings.     On the song "Every Time I Try (Live)", you hear a great intro building up momentum for the listener as She' Best delivers a soulful vocal performance that is combined with a solid rock beat.   "She Wore Red" appears on this album and you can find out plenty more about this buzzworthy gem right here:http://skopemag.com/2011/10/10/cutting-edge-she-wore-red.   Track seven "Agony And Ecstasy" has a lot of cool mojo going on where you'll just rock out all night long.   "Love Police (Live)" is honestly one of my favorites on the CD because it's just so damn funky and it also rocks.   This live version gives off such an inviting & fun atmosphere where you'll want to be a part of all the action & excitement yourself.   The "Love Police" have arrived and they will arrest you if you are not livin' it up and having the time of your life.   Taking no prisoners along for the ride, it is safe to say that the Cutting Edge ship has landed!
I have to add that Jeff Carolus adds smokin' hot solos and stellar guitar playing throughout the eight original tracks.   I am highly impressed with Jeff's skills on the guitar; enjoyable all the way through!   The singing of She' Best on "Losing You" & "Every Time I Try (Live)" and Ashley Skye on "21st Century Woman" really stood out to me.   A series of three drummers really caught my attention as well: John Platero, Raymond Johnson and William Zimmerman.   Zimmerman also plays the role of main songwriter along with the late Liza Pesnell.   David Pesnell did an excellent job himself with his one-of-a-kind vocals while also producing the album alongside J. Fassler.  
This group Cutting Edge is on pace to make major, BIG-time NOIZE in the music world so either get on board now or get lost in the dust!   I would highly recommend this record to anyone out there and you can buy 'Goes Back To College' right here:
http://itunes.apple.com/us/album/cutting-edge-goes-back-to/id458884912,      
http://101distribution.com/music/goesbacktocollege/?srh=s.  
Ain't no party like a Cutting Edge party 'cause a Cutting Edge party don't stop!   You heard it here folks so get ready because Cutting Edge is coming to town!    
http://www.facebook.com/pages/Cutting-Edge/122040117811626
http://www.cuttingedge-band.com
http://www.tweewoo.com/artist/Cutting+Edge/biography
By Jimmy Rae + (jrae@skopemag.com)
[Rating: 4.5/5]