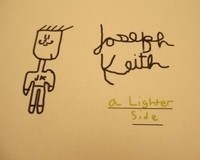 Fairfax's Joseph Keith latest album A Lighter Side fits perfectly for those who look for something soft, but still catchy tunes.
Every track is filled with an great guitar riffs that goes from likeable melodies like in songs such as "Sunday Evening" and "Up Down and Around" to powerful and awwesome "Let It All Out", "Say My Name" and "Over Me". With influences that goes from Jason Mraz, John Mayer and Rob Thomas, this guy born with talent and one proof of it is the whole album. So for fans of bands like The Ready Set, Plain White T's.
In conclusion, every song easily drives your attention and in minutes, without knowing, you might find yourself singing along. The lyrics are not really deep, but charming and quite what this music generation looks to give more a chance. So what's left for each of you is to go and visit his website http://www.josephkeith.net, give a listen yourself and enjoy!
By RJ Frometa- rjfrometa@hotmail.com
[Rating: 3.5/5]