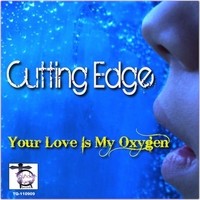 For the first time EVER I am doing a Review + on one song with six different versions and that's no joke!   I give to you one of the most intriguing, entertaining and ECLECTIC groups I have ever come across–Cutting Edge.   Perfect title for the band because the style is insanely Cutting Edge where they are definitely not afraid to cross musical boundaries & genres.   Cutting Edge is an American rock band that was formed by David Pesnell, William Zimmerman and the late Liza Pesnell "Leli" back in '97.   On the original, studio version of "Your Love Is My Oxygen" both David and William did the arrangements and played keyboards while Zimmerman also handled percussion.   The song was originally written by William Zimmerman and Liza Pesnell and this cut included Ryan Smith on bass and Jeff Carolus on guitars.
Your Love Is My Oxygen (Main):
Your Love Is My Oxygen (Chris Panaghi):
Your Love Is My Oxygen (Ricky Ric):
Right away I'm hearing band chemistry at its finest with the vocals, drums, guitar and keys all working together in sweet harmony.   The element of love comes rushing through on this number with a really cool flavor of some R&B added in.   You get a pretty distinct sound that is both soulful & emotionally-driven in its approach.   With lines like "Till death do us part" and "Lifeline to my heart" reiterated throughout "Your Love Is My Oxygen" all I have to say is eat your heart out!
The ironic twist here is that there are only three tracks, the original and two remixes, but each remix has its own extended club version plus two additional mixes.   Wild and crazy stuff I know!   The two DJs responsible for creating the different spins on "Your Love Is My Oxygen" are very familiar with the dance music scene. Chris "The Greek" Panaghi got his start in New York playing at some of the hottest nightclubs in NYC and has since produced remixes for major recording artists such as: Michael Jackson, Gloria Estefan, Celine Dion, Jessica Simpson, Aqua, Jon Secada, Yoko Ono and Marc Anthony.   "The Greek" had a few words to say about working on this recent project.   "I was excited to have worked on remixes for the band Cutting Edge.   It's great to see the buzz building nationally, especially having remixed the single "Your Love Is My Oxygen".   I hope for the continued success of the band as they reach new markets."   You can find out more about Chris "The Greek" Panaghi right here: http://www.djgproductions.com.
The next DJ "Ricky Ric" aka "Ricky Ricardo" has spent most of his life in the music industry playing for many different bands while also writing material, producing and covering sound engineering & staging as well.   Here is what Ricky had to say about his working with Cutting Edge: "After several conversations with the crew at Thunder Quest Records it became obvious to me what approach was needed for an additional remix of "Oxygen". With Chris having covered the more uptempo trance/tech side, I felt we could benefit from a slower groove-based club track. I also wanted something that could easily be spun in an Mid West or West Coast club setting. I considered going with an additional full-out dubstep mix but believed that approach would be a little harsh for a song that started as a R&B / Rock ballad. In the end, I settled with just using a few "elements" of that style in the one arrangement. Ultimately, I wanted the remix to flow and "breathe" with the message of the original track. I think I achieved a dream-like feel with this arrangement that well represents what can happen when you mix the elements of Love and Oxygen together."   You can read more about Ricky Ric at: http://www.rickyric.com & http://www.rickyricardodance.com.  
On the first remix, "Chris "The Greek" Radio Edit", you definitely get a hot 'n' cool club/dance hook where you can get your groove on all the way.   Next you will hear the "Ricky Ric Radio Edit" which comes across as a more mystical Pop/Dance mix that is also futuristic-sounding.   Right away you can tell the major differences between a "Greek" remix and a Ricky Ric cut.   Each DJ has his own style which makes for one solid & fun listening experience.   Chris Panaghi adds in one more track that comes with a fast beat to help get you in the right mood and just feel good.   He's makin' you bounce to the "Greek" step and there's no holding back!   The last three cuts come from Ricky Ric where you'll experience a sensual vibe & bubblicious sound on his "Dance Mix".   What follows will come across as almost erotic on the "Ricky Ric X-Dub Mix".   I would say it's time for Cutting Edge to get their freak on with a sexual vibe all the way on this track.   She says "Feels so good" over and over and over on the X-"Rub-A-Dub-Dub" version–Nuff said!   Ricky finishes strong with an "XI Mix" that has no vocal parts but I would have to say the Cutting Edge party has officially started and is blasting off!   The mood is good and the music is right as Cutting Edge offers the perfect medicine!  
"Your Love Is My Oxygen" is already gaining much attention & popularity by being played at tons of radio stations nationwide.   The song has recently been added to"Wendy's Listener Lounge" and you can SKOPE that out right here: http://www.wendyslistenerlounge.com/new2/artists/i/338686.
David Pesnell had some wonderful words to say about this whole experience.   "It is interesting to note that Cutting Edge has been approached a couple of times about utilizing the band's new song for commercials and rumors have been circulating about a food commercial that has been discussed. Visit the Wendy's site, have a burger and enjoy listening to "Your Love Is My Oxygen" by Cutting Edge."   Pesnell is also proud to announce that this Review + will appear on several Clear Channel stations nationwide, including three in New York.   This piece will see global exposure by being placed on a couple of Chinese & Japanese websites and will also appear in Music Dish.  
Time to spread the word high & low about Cutting Edge because they are here to stay!   With a deep & loyal following already in place, Cutting Edge aims to spread their music to more & more people globally.   This seems like perfect timing for a group like this to make some noise in the music world.   Get ready because here comes Cutting Edge as they move full-steam ahead!
You can purchase "Your Love Is My Oxygen" and all of the remixes right here:   http://101distribution.com/project/?id=11249&srh=s & http://itunes.apple.com/us/album/your-love-is-my-oxygen/id464530620 .   Here are some other informative sites where you can find out more about this original-to-the-bone & diverse band:
http://www.cuttingedge-band.com/    
http://www.facebook.com/pages/Cutting-Edge/122040117811626
http://www.thunderquestrecords.com/
http://www.youtube.com/cuttingedgerockband
And if that's enough for you, for the first time EVER in a Jimmy Rae Review + I am including three MP3's right here!   You will get to hear the studio version of "Your Love Is My Oxygen" along with the "Chris "The Greek" Panghi Radio Edit Mix" & "Ricky Ric Radio Edit Mix" as you read along.   ENJOY and tell all your friends and their friends about Cutting Edge RIGHT NOW!
By Jimmy Rae + (jrae@skopemag.com)
[Rating: 5/5]