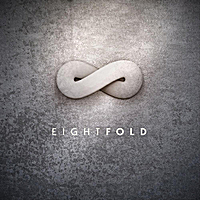 If "imitation is the highest form of flattery" then the likes of Scott Weiland, Chris Cornell and Lane Staley (were he still with us) owe a "thank you" to alt rock outfit, Eightfold. Drummer and lead singer Michael Davis-Penta is quite adept at channeling all of the aforementioned singers. Meanwhile, the second half of the equation, guitarist/bassist Steve Errato, supplies a vast musicality that is a clear nod to some of the bigger acts of the late 90s alt scene. What shines perhaps most is the sheer amount of music that the duo is able to churn out.
http://www.cdbaby.com/cd/eightfold2
The album opens with "Intent" and features Errato's intro guitar riff that sounds Jerry Cantrell circa Jar of Flies. Davis-Penta's vocals sound one part Brandon Boyd, another Lane Staley. As the song ebbs and flows between the melodic verses and agro chorus, a mash-up of Alice in Chains and Incubus comes to mind. Errato's ridiculous guitar solo at the midpoint and fills through to the close are commendable all the way through to the effects-laden outro. "Simplify" in vocals and musicality, again sound very reminiscent of Alice in Chains at the height of their songwriting. The demure intro of simple guitar work and hazy vocals soon give to hard rocking, bent note riffs. Through the verses Davis-Penta proves he has a staunch vocal command even while at the top of his range. Finish this one off with another soaring midpoint Errato solo. "Choices" is the album's change of pace track with opening acoustic guitar and eschews the heavy rock riffs for strummed melody until slight electric makes its appearance on the chorus. While leaning heavily on the melody, this showcases that Eightfold shouldn't be pigeonholed into the "heavy only" category. However, turn the amps back up to 11 on "Thesehands" which is unabashed in what it is with its heavily-wah pedaled opening guitar and drum kit beating. I like this track in that it perhaps illustrates best how raw and urgent their tracks can be while Errato puts on a guitar clinic within the fills. Earmarked by clever time changes, this may be the most technical track on the album.
Eightfold impressed me. As I mentioned, the album contains a lot of music for a duo playing three instruments. The musicality is there. The vocals are there. It just makes me wonder what these guys could put out with another set of hands. If a complaint lies with the EP, it is in the seemingly aural unbalance. The duo's focuses are apparent… Errato loves guitar, leaving bass almost missing and Davis-Penta is a singer who plays drums (which is impressive enough). But within the sound that comes through, the rhythm section as a whole seems to be an afterthought. Perhaps if all facets were given equal due diligence that final sound would sound more "complete."
by Chris West – cwest@skopemagazine.com
[Rating: 3/5]