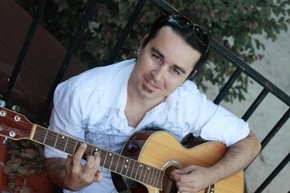 There is no doubt that these are tough times. I could run a whole column just on the problems of today. But when I get down I always get so excited to work for Skope where I can use music as my escape. Music is the safest anti-depressant out there, you just need the right kind. This week I am really excited to interview Paulo Lara a singer/songwriter from Brazil who currently lives in Florida. Paulo recently released his new album 'Estrela De Mil Pontas' which has the hit single "Better World." Join us today as we offer a FREE MP3 of "Better World" and Paulo talks about the new album, Brazil, his family, and so much more!
Stoli: Where are we talking from today and how was your summer?
Paulo Lara: I'm speaking from Orlando, sunny (or maybe we should say rainy) Florida. Summer here feels a lot like hell, but it's all good. I guess I totally got used to warm weather back in my hometown in Brazil, lol. Summer was busy and fun, thanks. I've been promoting my CD, and trying to start touring quite soon.  
 
Stoli: Growing up in San Paulo, Brazil, at what point on your life where you exposed to music?
Paulo Lara: I was exposed to music since I was a little kid, but I only figured out I wanted to be a singer when I was 12. At that time, I started to sing in rock bands with friends – and from that moment on, I never stopped, and it only got more and more interesting. When I was 15 I began attending Music school, and later on I went to college to study Vocal Theory and Popular Style Singing.
BUY THE CD ON: www.cdbaby.com/cd/paulolara
 
Stoli: Were your parents or close relatives into music and was music played in your home?
Paulo Lara: Not really. My parents enjoyed music but never played any instruments or were ever seriously into music. My close friends and my older brother played an important role in introducing me to different styles of music, artists and bands. Let me put it this way, at home I would listen to lots of pop music from the 80's, and when I was a young teenager my friends introduced to progressive rock and heavy metal. My brother, on the other hand, at the same time showed me a much wider range of music styles, such as world music, classical, jazz, blues, and Brazilian Popular Music (MPB).
 
Stoli: You recently released your album, 'Estrela De Mil Pontas' which means a star of a thousand points. How did you choose that song as the album title?
Paulo Lara: Actually, the whole album only became alive after I wrote "Estrela de Mil Pontas" in 2008, so I see it like a guiding light for the CD. It felt like after that song was ready, everything else fell into place. I knew what the other songs should be, and how the CD should sound like. "Estrela de Mil Pontas" paved the way for this album to happen. Also, the message it conveys is important – it basically talks about opening our hearts and doing whatever we can to love and to reach out to others.
Paulo Lara "Better World" MP3:
SKOPE IT HERE!
 
Stoli: The songs on the album were written over a decade in your life. How long did you know that you were going to put this album out and how many songs did you have to choose from?
Paulo Lara: I had been working on this album, or at least its conception, since 2003, when I released a single called "Dos Encontros/Left to Drift". Of course, there were many adjustments along the way. I would say that what really took me a long time was to find the right producer for the album – someone who would understand the music I was writing. I spent a long time researching on producers from different styles, until I met Flavio Marchesin, from pop rock band Megarex. Besides being a top notch musician/producer, Flavio was very important in the process of helping me choose the song list and prepare the arrangements, etc. We chose from something around 30 pieces, including both my own songs, and from other writers as well.
 
Stoli: You never stray away from your Brazilian roots. What does Brazil mean to you as a musician and as a man?
 
Paulo Lara: I think I have a somehow ambiguous relationship with Brazil. I'll explain it: in a way, I don't see my music as a typical Brazilian product, with Brazilian sounds, rhythms, themes or all that kind of stuff. So, it's not Brazilian in that sense. However, I do sing in Portuguese, and I think the multiplicity of music styles, influences and languages accounts for my Brazilian roots. Brazil is a huge melting pot of races and cultures, and it's in the core of us Brazilians to mix things up one way or another – as well as to accept and understand differences in a very positive way. So, as a musician and as a man, to me Brazil means absorbing different elements, influences and circumstances and creating something new. Be it a new song or a new way to look at things. It also means resilience to me – Brazilians are very strong and passionate. J
[youtube QKx0cLKcQ20 nolink]
Stoli: If I were to visit you in Brazil where would we go to see live music?
Paulo Lara: I would say Sao Paulo. There are lots of great venues, such as Bourbon Street Music Club, Ao Vivo, Na Mata, Tom Jazz, Credicard Hall, Teatro Municipal, Via Funchal, etc. Nightlife in Sao Paulo is absolutely exciting and there are always cool concerts in town, with artists from all over the world. Also, there are several SESC units bringing great gigs (SESC is a cultural venue with many units in Sao Paulo and all over the state, to promote culture, arts and sports).
 
Stoli: Being in the digital age of music, do you expect to sell more physical or downloads of your album?
Paulo Lara: Lots of things are changing in the music market, so it's really hard to tell. I expect to sell a lot of physical copies during concerts, but I also expect people to go online, and support my music by purchasing digital downloads. I do both, whenever I like an artist or band. I think it's important to support independent music. I know that many people, like me, are old-fashioned, and would enjoy the physical CDS even better. There's something special about them, it's like the pleasure you get from actually seeing it, touching it, enjoying the artwork and stuff like that – it may be a bit old school, but I love it, lol. However, I always buy both the physical CDs and the mp3s. As long as people enjoy and buy the music, everyone gets happy. J
 
Stoli: Your song "Better World" gives me hope. In the current state of the world with the economy, debt, crime, nuclear radiation, how do you keep your faith and know better days are ahead?
Paulo Lara: That's a tough question, because I don't exactly consider myself an optimistic person, I'm just concerned about the way things have been happening in the world. I would say that "Better World" is more like a message of hope, calling people to go out there and do their part, and to listen, to open their eyes and really see with their hearts and souls all the consequences of our actions and lack of responsibility, selfishness. Another song that talks about this on the CD is "When You Look Around", which is by the way my favorite for many reasons. I know that it all feels overwhelming when we think about the problems our world faces, but it always starts within yourself, and you can't control what other people think or do, but you can definitely do your part. In the end, if you really give it some thought, it shouldn't be about "me, me, me", but about what you are doing to the world and to others, what footprints are you leaving in the world? So, I don't know what the future holds, but one thing I know for sure, I will do my best to make things right. Are you with me on that? ;)
 
Stoli: On your album some songs are English & some in Spanish. Do you feel that music fans can enjoy your album no matter what language they speak?
Paulo Lara: Oops, I'm sorry; it's Portuguese (not Spanish). But that's ok. I guess in the end we're almost neighbor cultures and languages. Still pretty different though. J Nonetheless, I do like your question, and I thought a lot about it when choosing the songs for the CD. I realized that this bilingual thing not only is a huge part of my music and myself as a person, but it could build bridges and people could enjoy the music anyway. And just to be on the safe side, I included the translation for both English and Portuguese lyrics on www.myspace.com/paulolara.
 
Stoli: What's coming up for Paulo Lara and where you online?
Paulo Lara: I already have some new songs coming up, but right now I'm focusing on putting my concert together to start touring really soon. I am preparing lots of cool surprises. J So, if you like my music, stay tuned! I promise to bring you some great stuff! J Chances are I'll also play a couple of new tunes on the shows, along with the songs from the CD, and much more! You can find me online on www.paulolara.com, or buy my music on www.cdbaby.com/cd/paulolara (You can also find the CD on Amazon, ITunes, etc). Also, take a minute to like my Facebook Page http://www.facebook.com/pages/Paulo-Lara/141480412580068?sk=app_2405167945.
Thanks, Stoli, Skope Magazine, and everyone who's reading this. A better world for all of us!
 
Paulo Lara