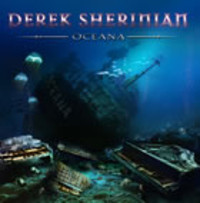 Derek is a well-traveled keyboardist who has worked with Buddy Miles, Alice Cooper, Kiss, Billy Idol, Yngwie, Al Pitrelli, Planet X, and Dream Theatre.   On this release, screaming guitars take center stage, alongside the keyboards.   Guest axe men include Steve Lukather, Tony MacAlpine (also a great keyboardist), Joe Bonamassa, Steve Stevens, and Doug Aldrich.   Simon Phillips handles the drum duties (and song co-writing).   The bass duties are mainly handled by Jimmy Johnson, along with Tony Franklin on two tracks.   Simon combines as smoothly with Steve Lukather, as they did with Toto (he replaced Jeff Porcaro).   Currently, Derek is part of Black Country Communion featuring Joe Bonamassa, Glen Hughes, and Jason Bonham.  
This release is mainly a jazz/fusion thing, at times reminiscent of Jeff Beck (with Jan Hammer), and Steve Lukather, and Billy Sheehan (with Tony Mac) solo efforts.   You can definitely hear the influences of the guitarists Derek has worked with over the years.   I once asked Tony Mac whether it was harder (which I thought it would be) to put together an instrumental fusion album, than a standard one with vocals.   He replied that they were about the same.   I guess if you're at that caliber of your game, it's all a piece of cake!
Derek and Simon Phillips wrote most of the songs on this release.   Interestingly enough, you can pick out the Stevens influence on the songs he co-wrote, Ghost Rider, and Oceana. The same holds true for I Heard That, featuring Joe Bonamassa's bluesy even paced punctuated input.   Some fancy piano work along with some B3 is found on Five Elements.   If you are a keyboard player, there's enough synth, effects, and B3 action to get you inspired and fired up to start practicing harder!   If you're a guitarist, you have your work cut out for you.   In summary, you get some great guitar work, along with some great keyboard interaction, from the best in the business!  
By RME
[Rating: 3/5]