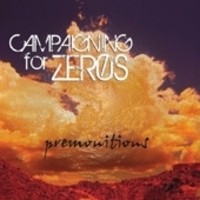 Campaigning for Zeros consists of, Eric Taylor, Brad Ouellette and Kevin Wiseman. Three guys from Coachella CA created a 3 song EP called, "Premonitions". All the songs are enough to leave you begging for more. You can also hit repeat on your CD player and let them run through a few times. I did and had that head bobbing thing going nonstop.
They have a grinding alternative rock sound. Eric's voice is fitting for the music. The band is good at what they do and compliment their front man with great force. The first song, "Beneath the Moon" is melodic and soaring. It is a good opener; very strong and grabs your attention right away. Their pretty rocking; it is not head banging, but certainly more edgy than your typical popular music.  
My favorite song of the 3 is, "Lost". This one is extremely hooky and stands out above the others. There is a lot going on, drums are driving, guitars are jamming and vocally Eric has amazing articulation. Every word is heard with concise clarity.
They have a fresh sound that is extremely radio friendly. Up tempo, feel good songs with vibrancy and class.   The one disappointing thing about this EP is that there are only 3 songs. But it is a nice start and I look forward to hearing more.
By: Rebecca Hosking – hoskingrebecca@gmail.com
[Rating: 4/5]