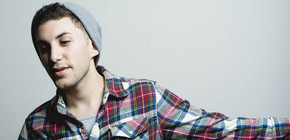 Antony Bitar is pleased to announce his music video "Butterflies" will premiere on Tuesday, September 6. "Butterflies" is the first single off Antony's upcoming self-titled album, out on September 13.
[youtube ku3GQghFecA nolink]
Directed by Michelle Handal and produced by Alexis Freitag and Ramie Faris, the video tells the story of love at first sight. "'Butterflies' is about that moment when you meet someone, and you're suddenly paralyzed with this emotion that takes you back to that young place when you were a shy kid," said Antony.