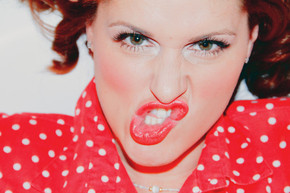 Back from summer vacation and the beautiful Lake Winnipesaukee in New Hampshire. There is nothing more relaxing than Bud LIght, Evan Williams, and live music on the lake. But now back to work so I had to have an emcee that would get us all excited & hot. BrookerT is riding high with the release of her new video "Swallow Hard" and if you think she is trying to get a rise out of you well you are correct. BrookerT might be sexy but she is also talented & has the drive & passion to make a name in music. Join us as BrookerT talks about staying fit, the controversial video, white emcees, and much more!
Stoli: Where are we talking from today and how is summer in LA going?
BrookerT: I am in Chicago, my hometown, right now for Lollapalooza…its hot and sticky here!   I will be back in LA next week…cant wait I have so much work to do!
Stoli: How did you get the alias BrookerT?
BrookerT: My middle name is Theresa so my Dad my whole life called me BrookerT…my whole family calls   me Brooker or BrookerT.
Stoli: You just released your jaw-dropping video for "Swallow Hard." When did you write that song and was it directed towards a special someone?
BrookerT: I wrote that song late last year.   If i did have someone in mind when I wrote it they definitely know who they are.
Stoli: Where did you come up with the concept for the video and are those other sexy women your friends?
BrookerT: The Director, Joey   Pleasants, and i concepted the video, with a song like "Swallow Hard"   its not that hard to come up with a concepts. Yeah I called up some of my hot friends and recruited them for video.
Stoli: Does it bother you that people will label you just based off the video and do you care what people say?
BrookerT: No it doesn't bother me at all.   Im not worried about what other people think, I use it as Fuel
Stoli: You look really sexy. How do you keep your body & looks so on point?
BrookerT: Thanks. I Box at Barracuda on Melrose in LA about five times a week…that is the best workout i have found in years. That added with Bikram Yoga and i'm good to go.
[youtube 0Kbal7jdq_I nolink]
Stoli: At what age did you know that you could rhyme and that you wanted to pursue music full time?
BrookerT: When I was very young like 10 i used to repeat all the lyrics in any rap song i heard, imagine one minute i was playing flute and piano in a chamber ensemble and then i would start to spit lyrics after.   My mom thought i was crazy.   I knew i would do something in music ever since i spent every penny i made went to a new music lesson, a new instrument, new music, or a live show.
Stoli: Do you agree that the past couple years it has become more accepted to be white and be an emcee rather than in the 90's?
BrookerT: Beastie Boys have always been my all time favorite so to me white people have always been relevant as emcee's.
Stoli: What in life inspires you to sit down and write rhymes?
BrookerT: Its not what in life ….its just life. Life inspires me.
Stoli: Do you have a boyfriend and what does a fella have to do to get your attention and a date?
BrookerT: I do not.   Its not that hard to ask me on a date, the hard thing is once we are on a date how interesting you are.
Stoli: Alot of people are going through tough times right now. Can you offer advice and words to help keep their head up?
BrookerT: Keep pluggin away and eventually everything turns around.  Sometimes peoples ego's put them into a bigger rut then they need to be…suck it up and make some money even if its not an ideal job.
Stoli: Whats coming up for BrookerT and where you at online?
BrookerT: I am about to film my next video and put out my first release on itunes.