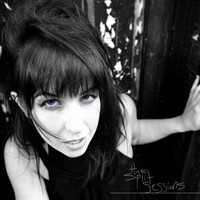 Jennifer Logue is the epitome of smooth. Reigning from New York City, this crooner doesn't stop doing what she does until you are completely satisfied. Satisfaction is the best way to describe how I felt after listening to, "The Split Sessions."
Jennifer has a voice that takes you to another place. She can erase all the wrong in the world by simply singing. I guess that is my way of saying she sounds like an angel without coming right out and saying it. Besides, she is a bit more edgy, than your average angelic diva. Oh, who am I kidding, I'm trying to avoid a cliché but it is unavoidable. Her vocal is a talent all on its own.   She has colorful lyrics painting pictures of emotions and belts it out with spot on conviction. She is an extremely concise story teller with a voice as fine tuned as her instruments.
The CD is not due to be released until September 22nd but she has two tracks, "Damned" and "Incognito", available for free download. I highly recommend everyone take advantage of her generosity and mark your calendars for the full release. Did I mention how amazing her voice is?
For anyone who follows music you know we have hit some rough patches where authenticity is concerned. I feel like celebrating when I hear music that lifts me to new levels of intensity. She definitely has a pop vibe but is convincingly changing what popular music should sound like.
What a great escape from the every day mundane. Do you need a vacation from reality for awhile? I recommend slipping in "The Split Sessions" and let it take you some where new. My review would not be complete without thanking musicians like Jennifer Logue for sharing her talent and changing the face of music as we know it. WOW…. I'm mystified and speechless!
Review By: Rebecca Hosking – hoskingrebecca@gmail.com
[Rating: 5/5]