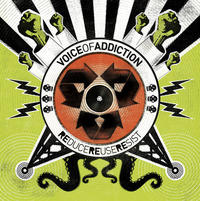 Get ready to open your eyes & ears to Voice of Addiction who also play the role of voice of reason on their brand new release 'Reduce, Reuse, Resist'.   Voice of Reason is a trio of guys who have come up with addicting music that will both excite you and make you think.   The raw energy & fun are there for sure but the potent message to change our ways before it's too late is the ongoing theme on the new record.   When it comes to survival on this great big Earth it's all about urging people to 'Reduce, Reuse, Resist' for Voice of Addiction.   What it really comes down to is to just simply 'Do the Right Thing'–thank you Spike Lee!
This group is made up of three solid musicians: Ian Tomele on lead vocals & bass, Jeff Walschon on guitar & backing vocals and Andy Petty on drums & backing vocals.   VOA is primarily a modern punk rock group while also paying homage to the classic Punk scene of the late 70s and early 80s.   I also picked up on a third wave Ska sound that came through on certain tracks.   The album contains 13 songs of high-octane fuel for your system.   All the way through VOA play & perform with a ferocious amount of energy that will just blow you away!   All three members exhibit an extreme brute force that is undeniable.   The band chemistry is there all the way as you feel the angst and Voice of Addiction comes at you in a fast & furious manner.   I'd have to say that this album offers up in-your-face music that will penetrate deep into your ear drums from beginning to end.
I love the fact that VOA has breathed new life into Punk rock music which has seemed to slip through the cracks especially when talking about Today's music.   You experience a fearsome frenzy where Voice of Addiction is yelling out LOUD for the whole world to hear.   It's the VOA anthem baby and it's coming to a town or city near you!   They're not just warriors of rock but also warriors for the good of this world.   So sing it, play it and stress it Voice of Addiction and WE will 'Reduce, Reuse, Resist' on all levels no matter what it takes!
By Jimmy Rae (jrae@skopemag.com)
[Rating: 4.5/5]