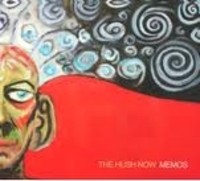 When reviewing a CD half the excitement is, not knowing what to expect. Then when I hear something as amazing as The Hush Now, I am pleasantly surprised. This Boston indie rock band could be one of the city's best kept secrets.
Their new release, "Memos" is scheduled to be on the market in September and was produced by heavy hitter Benny Grotto. Grotto produced bands like Ben Folds Five and this CD definitely has his signature. The band consists of Noel Kelly, Adam Quane, Barry Marino and Pat McDonald. What ever these guys are doing they should keep it up; its working!
As a band they work brilliantly together. It feels like they have been at it for awhile and the music dictates what they are thinking. The songs are fused in a tight melodic and rhythmic constant motion. It is mesmerizing in an almost psychedelic sort of way. The CD is reminiscent of Morrissey and that era. The thing that makes it work so well is ironically how diverse the tunes can be. Each individual piece speaks its own language, but the project as a whole is created by the song's individuality.  
I cannot really call out any particular track as being a strong radio single; it really does not fit in any popular genre in the mainstream today. This in my opinion, is a good thing, not bad? It is fresh and new and keeps you eager to here the next song. My personal favorite is "Rooftops". However the first time I listened to it my favorite was the title track, "Memos", and every time I listen to it, I find a new favorite.
The CD Memos, by The Hush Now, is certainly an excellent addition to anyone's collection of music. I see a big future for these guys and wish them all the best!
By: Rebecca Hosking – hoskingrebecca@gmail.com
[Rating: 4/5]