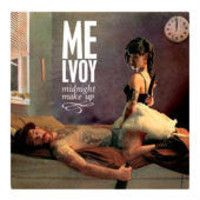 You might be asking yourself Mel Who?   and I'm hear to tell you it's Melvoy damn it!   This four-piece band from San Francisco has a lot to prove on their debut EP 'Midnight Makeup'.   Melvoy lays all their cards out on the table so that listeners can take it ALL in ALL at once.   Nothing to hide here as Melvoy is exposed to the entire listening audience.
This Bay Area group is made up of: front man & rhythm guitarist Chipper Castro, Ken Eagle Oliver on vocals & lead guitar, Natalie Rose on vocals & drums and Wayne Henry Helgeson on vocals & bass.   All four members bring a sound & style to the table that Castro likes to refer to as "sex rock".   The six tracks on 'Midnight Makeup' definitely have that sexual tone both musically & vocally but it's all done in a very playful 'n' innocent manner.   As soon as I hit Play I'm hearing a bunch of crazy rascals just havin' a blast on "Dirty Girl".   I can't help but think of Vince Vaughn's line "Now it's a party" from the movie 'Couples Retreat' because that is exactly what Melvoy is giving you.   The party continues with Melvoy bringin' it home by way of ridiculously catchy hooks & melodies.   I'm really diggin' the song "I Love You" because it's got flavor, it's got style, it's got pizzazz!   Each song really holds its own as Chipper & company never once let up on the gas.   You get a bit of a heavier presence on track four "Oh Melvoy" with some kick-ass guitar riffs, hard-hittin' drums and an overall display of raw power.   Melvoy is goin' absolutely wild 'n' bananas and they don't care who knows it!   They're burnin' energy left & right for the whole world to hear & experience for themselves.
What you're getting here are sizzling hot tracks that are purely-rock driven drizzled with some Pop & Alternative for shits & gigs.   You'll even pick up on a Punk Rock influence that comes across loud & clear on this EP.   I can't say enough about the cool brand of sound Melvoy has produced here; it's "sexy rock" at its best!   I'm really into this band's whole approach to music and in the words of Kevin Cronin of REO Speedwagon "I Can't Fight This Feeling anymore".   Go check out Melvoy's 'Midnight Makeup' RIGHT NOW and GO NUTS!
By Jimmy Rae (jrae@skopemag.com)
[Rating: 5/5]