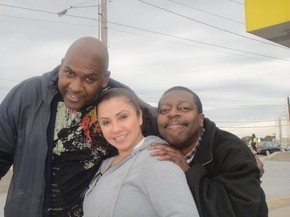 Welcome back and big shout outs go out to our first "commentator," Miss Lori Johnson, who chimed in with "Hey MKM I have got to say I REALLY like this blog site. I am anxious to see the evolution! "Music is the healing force of the world." Got to give it up for Full Force… a truly unsung and underrated group for sure…" Lori's compassionate words have inspired us to keep things moving along, so we'll pick up where we left off last time…
Music has been part of man literally since primates could tell that dawn turns into dusk. We've seen the rise and fall of vinyl records, tape; even the CD is being overshadowed by digital downloads. So, is the music industry better off today than it was in yesteryear? Has mankind progressed… or declined? Of course, this all depends on how you see the glass filled. If you noticed our musical timeline in ISSUE 1, you should have an idea that music has transformed from a spiritual necessity–into a pure commodity over the last century or so. With that said, I ask where are we in the world with respect to the music industry? Do you think it's sound and resolute, considering the fact it was pretty much an innocent means of socialization mere decades ago?
Although the music industry probably lost its virginity in the 1950s, June of 1985 is when it found its spirit. Man must always remember that we are the world. When tragedies such as Hurricane Katrina, and the more recent Japanese earthquake, floods in Asia, and in America's Midwest region; "society finally realized for the first time, again, that man is the first and last means of rescue and rebuild for the modern world." I emphasize this, because when the "We Are The World" campaign was launched in 1985 by Quincy Jones, Lionel Richie and Michael Jackson, a few more than just the people from my Sony/Columbia Records team thought it would get high off the ground. Needless to say, that collaboration is still the barometer for many of the global musical events hosted by large non-profit organizations. Let's not forget there were many stories, and we've got the skinny–so if you use your Superior Intellect, you can hone in on where we'll pick up next week!
PICK HITS: MP3 of the week – WHO — Joe Black www.reverbnation.com/spliffermanakajoeblack
VIDEO OF THE WEEK: RIDE — Joe Black
[youtube Y6hBMfd216s nolink]
PICTURE OF THE WEEK (Above): SUPERFRIENDS ATWiLL, PRODUCER PAXY, L.A. JACKSON
MKM HotLinks: www.forcefulworld.com, www.myspace.com/chimeremelodies, www.reverbnation.com/jackbeazly, www.reverbnation.com/spliffermanakajoeblack
 
By: LA Jackson – 'da musicmon'- musicmon101@gmail.com
"NOTHING IS IMPOSSIBLE IN GOD'S WORLD"
TO ALL PARENTS: Get this Bernard Percy book, for you AND your kids!!!   Just go to www.howtogrowachild.com – I know the kids that helped write it!!!
Get the new MKM EXPOSER VOLUME 2 Compilation –   NOW through www.bfmdigital.com and at Amazon, eMusic, imeem, Yahoo Music & iTunes: http://itunes.apple.com/WebObjects/MZStore.woa/wa/viewAlbum?id=310798432&s=143441
Coming your way soon: the MUSICOLOGY book series!! Get your taste buds wet at: http://ezinearticles.com/?expert=La_Jackson
See our affiliated artists at www.reverbnation.com/label/mkmentertainment.   With more than 100 featured acts, millions of exposure views and over 1.5million plays… we are STILL counting and keeping it moving right along!!
We are building our channel: http://www.youtube.com/mkmworks