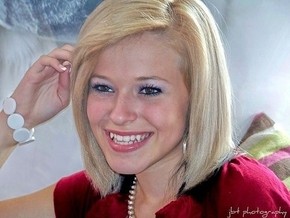 At only 16 years old, Ria's voice has been called, delicate, haunting, flawless and at times very powerful.   This is one young lady we will be hearing lots about in the near future.
Who inspires your singing?   What genre is your favorite?
   
The inspiration for my singing is Christina Aguilera and  I listen to all music, all genres.
Ria "Ultra Blue" MP3:  SKOPE IT HERE!
Tell me how you got started and where you have been performing?
I used to dance at my mothers dance studio, and one year I said I wanted to sing instead of dance, and it went from there. I have however been singing since I could talk, I would sing "Tomorrow" from Annie, and being so young would sing, the words come with me instead of come what may, being so young that is how I heard it! People have said since hearing this story that I knew what I was saying, and I was telling them to follow me on my musical journey as I got older! So basically I could always sing and until my first voice teacher told my Mom, when I was six " Wow , her voice is really a gift" we didn't really think much about it I just sang alt the time!
[youtube LtmLhUc00f8 nolink]
What makes you unique?
I have been told that what makes me unique is my raspy voice,my feel for what I am singing,  and the way that I phrase my songs.
Where would you like to be in 10 years?
Hopefully ten years from now, I will have a few successfully Cd's out, grammy nominations and awards, still have the great fans that I have now and more! And be able to touch hearts with my music all over the world!
 
http://riamusic.com
By: Diana Olson – diolson05@yahoo.com