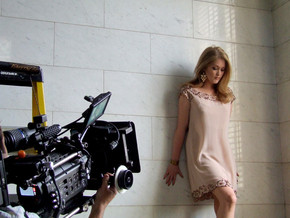 August is here again, that means we better get outside as much as possible before the temps start dropping. I never want summer to end. My guests this week do not have that problem as Rose of Jericho is a rock band from San Antonio, TX, lead by singer Andrea Russie. I must admit that their single "Midnight Eyes" gave me straight deja vu to when I was a freshman at Northeastern U and we were all just living the dream with no worries or stress. With that in mind I wanted to share this gem of a band with Skope loyals all over the world. Rose of Jericho are riding high after releasing their third album 'Out of the Maze' so I had to have them on to talk about everything from their lead singer, writing music, going out in San Antonio, and much more!
Stoli: Where are we talking from today and how are you coping with this summer heat?
Rose Of Jericho: I am currently in our hometown of San Antonio, TX and it is very, very, very hot here.   I don't think I'm coping with it so much as I just try really hard never to go outside.
Stoli: When its is over 100 degrees, do you still get together and rehearse and is A/C a must?
Rose Of Jericho: We are lucky cause we have an A/C'ed practice space.   The fallback from where we are now is a garage but that can get to over 110 degrees so we may end up passing out before we can finish a set.
Stoli: How did you all come together and name the band Rose of Jericho?
Rose Of Jericho: Andrea and I met at a party of a mutual friend and we instantly hit it off. As soon as I heard her voice I knew that I wanted to write music with her. Andrea and I have both similar and different musical tastes, for example my early influences included Rush and Metallica while her influences were Paula Cole and Evanescence.   I think the variety of our musical influences has really helped us create a cool and unique sound for the band.
[youtube r7zE3uf_DiU nolink]
As for the name of the band, we actually got it off a bottle of hand cream. Rose of Jericho was one of the ingredients and we all thought it sounded cool.
Stoli: Were you all friends before the band and do you hang out when not playing music as well?
Rose Of Jericho: We have just recently added Mon Mercado and Brad Hartman on drums and bass so we've been spending a lot of time playing together and just getting to know each other.   We do like to hang out and video games are always popular with us.
Stoli: 'Out of the Maze' is your third album release. How did the last two albums help you grow and learn what sound you want to pit out there?
Rose Of Jericho: It's been a real journey for us from one album to the next.   The first album "Applause of Wings" we recorded in a bedroom using all of our own equipment. Although the album turned out well I wasn't completely satisfied with the production quality of the album.   At that point we started looking for a recording studio when we came across Razor's Edge Sound in Austin, TX.   It's owner, Kevin Hamilton, really helped us not only create label quality recordings but also produced "These City Lights" and "Out of the Maze."
Buy 'Out of the Maze': http://www.cdbaby.com/cd/roseofjericho3
I always wonder about what ROJ's "sound" is.   We have a pretty diverse range of songs, for example "These City Lights" has an atmospheric/indie sound while "Midnight Eyes" sounds very pop-rock, and "Beautiful Machine" is dark and more alternative. I like that about us that we can explore different aspects of our genre and we'll continue to do that.
Stoli: I love your song "Midnight Eyes." Would you say that is the hit single off the album and what does that song mean?
Rose Of Jericho: Yes, "Midnight Eyes" is getting a lot of attention and great feedback.   We recently just finished filming the music video so that will be coming out shortly.
I don't write the lyrics so I'm kind of speaking for Andrea but "Midnight Eyes" is pretty much a straight love song.   It's about being so wrapped up in someone that they completely mesmerize you.
Stoli:   Andrea Russie is not only talented but she adds beauty as well. How did she end up as the lead singer and how does she handle being the face of Rose Of Jericho?
Rose Of Jericho: Yeah – it definitely doesn't hurt to have a hot girl at the front of the band.   Pretty much the very second that I heard her voice I knew that she had to be the lead.   In general she's a fairly private person so getting a lot of attention can be somewhat overwhelming but everyone is always so supportive that she's able to interact with fans without any problems. Shooting the music video was definitely a lot of fun for her since she was in pretty much all of the shots.  
Stoli: Explain your process for songwriting, is it a group effort or does one person do it all?
Rose Of Jericho: It really varies.   Some of the songs I write all of the instrumentation then bring Andrea in once I have a song structure already set up.   Other times Andrea may write some on the piano with a part of chorus or verse then we work together to flesh out a song.   And other times songs just happen by accident through jamming as a band or me and Andrea sitting down while I play riffs on the acoustic.   For example "These City Lights" was written pretty much in one take.   I was playing on acoustic guitar and Andrea just started singing and we happened to be recording at the time.   After we finished we listened to the recording and really liked what we heard. "These City Lights" appears on the album almost exactly as we recorded it on the first take – lyrics and everything.
Stoli: How is the San Antonio music scene and what local music venues do you play and go to see live music?
Rose Of Jericho: The scene is great in San Antonio.   We regularly frequent Jack's Patio, Sam's Burger Joint, Zombies Bar, and Limelight.   And Austin is just up the road from here so there's a lot of opportunity for shows and live music.
[youtube 3yMypp1UgxA nolink]
Stoli: Did you ever think your music would be on Band 3 on the Xbox 360 and do you play Rock Band?
Rose Of Jericho: I bought Rock Band 1 pretty much when it came out and I loved it.   I thought it was all kinds of fun to be a virtual rock star.   I never thought we'd get songs on Rock Band but the day our first song ("Buried Cold") came out on Xbox I made everyone in the band play the song whether they wanted to or not.   I don't have as much time nowadays to play but I still enjoy it when I get the chance.
Stoli: Do you have to work part time jobs or is it music 24/7?
Rose Of Jericho: Unfortunately we are still trying to get to the point where we can dedicate ourselves to music.   We still need jobs to pay for all of the non-stop expenses of running a band.
Stoli: Many industry insiders & critics feel you guys have what it takes to be big. Where would you like to see the band go and does that add pressure?
Rose Of Jericho: I would love to see us get more national exposure and I don't feel pressure at all about it.   We love making music and I hope more than anything that we can do it for the rest of our lives.
Stoli: What is coming up for Rose Of Jericho and where you at online?
Rose Of Jericho: We are about to go back into the studio to record our fourth album.   We're really excited about it as we already have many songs written and we think our fans are really going to dig them.   Also we are about to start playing more shows so check us out on our website at www.roseofjericho.com and facebook www.facebook.com/roseofjerichoband for more updates!