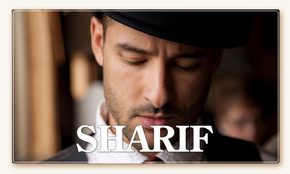 Almost There is the follow-up to Sharif's Kisses and Lies, which ranked in the Top 25 of central New Jersey non-comm radio station WBJB's "Top Albums of 2010."   Kisses and Lies — praised by Vintage Guitar Magazine as "an often moving, overwhelmingly pleasing, well-constructed album" — featured Tim Bradshaw, Old 97's front man Rhett Miller and Jon Graboff, who plays pedal steel on   "Wander Back To You" on Almost There.
The infectious lead single "I Don't Miss You" will be serviced to radio along with the full EP upon release.    
You can check out the song at: http://sharifpress.com/single
Born in Virginia and currently residing in Los Angeles, Sharif has more than 300 music placements to his credit, with songs heard in such television shows as "Supernatural" (The WB), "16 And Pregnant" (MTV), "No Reservations" (Travel Channel) and "South of Nowhere" (TeenNick).