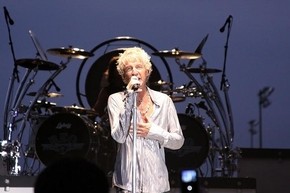 Summer 2011 is here and REO Speedwagon is "Back On The Road Again" for more! I couldn't have asked for a better band to kick off the season. On Saturday, June 11 REO Speedwagon played to a nearly sold out crowd at the Hoosier Park Racing & Casino in Anderson, Indiana.
I am a HUGE REO fan and so I was thrilled to be at this show! I have to give a shout out to Director of Public Relations, Grant Scharton because he made my guests and I feel so welcome from the get go.   Hands down this was the best treatment I have ever received out of all of the venues I have ever been to.   Hats off to you Hoosier Park and Mr. Scharton for really going out of your way to make sure media is well taken care of.  
This event actually kicked off something new which is the Summer Music Track: Outdoor Summer Concert Series.   Even better that my guests and I were there on this special opening night so let the show begin!   The night started up with an opening act called The Devonshires.   This group plays all sorts of classic rock songs from the golden era of rock & roll, the 60s and 70s.   The Devonshires are a very cool band that pay homage to many of the greats by delivering one incredibly authentic performance.   They appear to be masters of their own domain when it comes to replicating these acts; everything from the sound & style down to the set up & wardrobe.   The Devonshires delighted the large crowd by opening up with the classic Who song "Baba O' Riley".   They even ended on a Who number "Reign O'er Me" where both Who classics were covered extremely well.   This group made up of five brothers went on to play the popular "Radar Love" by Golden Earring and Jethro Tull's "Locomotive Breath" as well.   Based on their huge catalog of songs to choose from I would have liked to have heard some Beatles, Doors, Rolling Stones and maybe some Led Zeppelin.   The Devonshires set was very short I have to say and actually I was disappointed because I was hopin' for at least a few more golden oldies.   Make no mistake though, this is one excellent cover band that knows their 60s and 70s music!   I look forward to hearing more from The Devonshires in the future.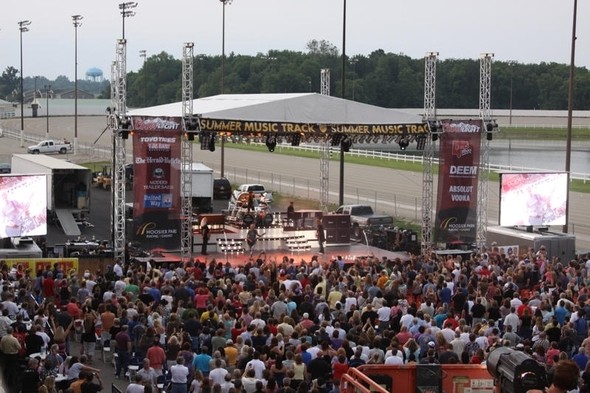 Next up is the main attraction, REO Speedwagon, ready to take to the stage with 40 + years under their belt!   The longevity of this Midwest rock band is nothing short of amazing as REO continues to play in front of many loyal, die hard fans while also attracting new faces.   Spanning the decades and generations, REO Speedwagon proves that good rock & roll music is all you really need and that it will never die!   This is actually my second time seeing & reviewing an REO show and I'm here to tell you that I wasn't disappointed then and definitely wasn't disappointed now.   Quite the opposite reaction I received as Speedwagon just blew me away with their awesome sound quality, overall performance and high energy level.   Celebrating the 30th Anniversary of their hugely successful album 'High Infidelity' , which happened to be the   biggest selling rock LP of 1981, REO Speedwagon was in rare form that night as they belted out all the Hits you could handle!   Playing hit singles off of 'High InFidelity' like "Don't Let Him Go", "Take It On The Run", "Keep On Loving You" and "Tough Guys", REO gave it their all and let the crowd have it!   They kept the momentum going by playing many of their other BIG songs like "Time For Me To Fly", "Roll With The Changes", "Ridin' The Storm Out" and one of my personal favorites "Can't Fight This Feeling".   Whether it's memorable power ballads or pure rock-solid numbers, REO Speedwagon plays on!  
The word quit is not in this band's vocabulary as lead singer Kevin Cronin stated that they would keep playin' as long as people kept coming out to the shows.   There was a sign in the crowd that read "REO Kicks Ass" and I could not agree more.   The REO fever is still strong and so this powerful Speedwagon will "Keep Pushin'" on my friends.   May the legacy of REO Speedwagon live on forever!
By Jimmy Rae (jrae@skopemag.com)