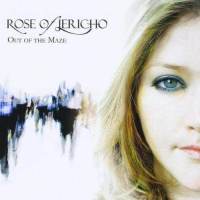 The creative duo of Andrea Russie and Matt Rasmussen has returned with their sophomore full-length effort, Out of the Maze. The 13-track album is laden with radio-friendly pop rock tracks as well as emotive ballads and leans heavily on their guitar and vocal tandem. Russie supplies a vocal delivery that comes through with a definitive strength whether belting out lyrics or whispering demurely. Her range should be noted as well. Interestingly, Rasmussen's crafty guitar work seems to serve as both a foundation of sorts and featured asset to several of the tracks rather than relying on a standard bass and drum rhythm section.
Appropriate album opener "Signed with Love" is foreshadowing for the tracks to follow. A guitar-driven rocker, the track pops from the first notes of Rasmussen's riff work, which only slightly retreats making way for Russie channeling Paula Cole in her vocal delivery. This could easily make the album single with its pop rock sensibility. "Romancing the Ordinary" (an homage to Russie's late grandfather) again opens to clever guitar work/vocals interplay before building into the full rocking chorus. The vivid imagery in the lyrics standout in this one and is a good representation of the storytelling ethos of the album. The demure "Midnight Eyes" is the converse of the rock tracks with its piano opening just behind more of Russie's emotive lyrics. Backing strings and slight snare brushes make this arguably the "prettiest" song on the album. The piano returns on the down tempo "Carried Away." The musicality on this track is a simple nuance again allowing Russie's vocal delivery to be the driving force of what could easily be a Regina Spektor song.
Beyond the obvious available talent of Russie and Rasmusson, I like the extended length of the record (again 13-tracks) and the fact that the album as a whole has a polish to it. The musicianship is clean and the vocals are bright without sounding like an inordinate post-production work was the rule and not the exception. Rose Of Jericho also knows how to play to their strengths with appropriate focus given to the guitar and vocals. This simply has to go down as a solid second outing.
by Chris West – cwest@skopemagazine.com
[Rating: 3.5/5]