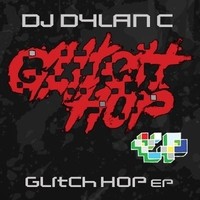 Dylan John Cameron aka DJ Dylan C offers up nine blazing tracks on his new EP 'Glitch Hop'.   This guy has been involved with the DJ scene since '98 and he was only 13 years old at the time!   That's ALL LOVE for the turntables as DJ Dylan C is ready to put his skills to the test.
As soon as I hit PLAY I'm hearing some insanely hot beats on "Shady" that are far from slim .   Right away Dylan C grabs your attention by creating music that will make you bounce & bob your head all day long; I already can't stop movin'!   Spinning along into "Afterhours" you get exactly what it sounds like which is a party atmosphere full of all-night fun & excitement.   The mixing of sounds is just crazy fresh with off-the-hook audio on display.   On cut three "The Hater" you're getting an Old School meets New School vibe which resonates throughout the whole nine-track set.   On "West Campus Slum 9thousand" DJ DC turns out a ridiculously off-balanced beat that was a very unique approach but seemed to work here.   Throw in a Montell Jordan sample on "The Shore" and you just got some real craziness goin' on here!   Rolling into the next joint "Sanctuary" you actually sense somewhat of a solemn sensation while also receiving a feeling of uplifting spirit.   This is an impressive feat for any musician but for a DJ to tap into these emotions makes it even more amazing.   For all you bass heads out there who like to bump in your rides get ready for "Solo Mission" that will take you on a two minute cruise.   By the end, DJ Dylan C has pulled all the tricks out and has showed us what he's got so watch out now!
DJ Dylan C "After Hours" MP3:
This young man from Austin, Texas is not messin' around as he's about to break you off somethin' nice.       I even picked up on classic video game-like effects scattered throughout the EP which added a cool flavor.   What I liked most about DC and his new project is the extreme originality behind it all.   This DJ cuts like no other and combines sounds that will overwhelm your senses.   Just picture the best of dance, electronic and hip-hop beats all wrapped up into one exhilarating package and there ya go!   'Glitch Hop' is one awesome listening experience that will leave you wanting more!
Dylan has performed to sold out crowds and has played with such acts as: Del of The Gorillaz & Aesop Rock and Warren G at The Key Club in West Hollywood.     Most recently he shared the stage with Cash Money Records recording artist Glasses Malone at Hiphopalooza in LA.   This turntable master is on the up & up because he has got a talent that can't be denied.   I would not battle with DC if I were a rival DJ because he or she just might get badly burned!   He is that good people and that is why I highly recommend Skoping out DJ Dylan C and his new 'Glitch Hop' EP; you will not regret it!
Besides tearin' it up on the ones and twos, DC is also a sound designer & producer at Clarksville Studios in Austin.   Now a proud member of the Framed Nation roster, Dylan C had the privilege of working with Gregory Booth of Framed Records who was the Executive Producer on 'Glitch Hop'.   With an upcoming performance on Saturday, June 4 in Oakland at The New Parish, DJ Dylan C will be playing with Fishbone that night!   You will not want to miss this cat in action if you have the chance because DC is a heavy weight contender who's ready to go toe to toe with the best of the best.   Also be on the lookout for an upcoming 12" vinyl release of selected 'Glitch Hop' tracks plus another digital single release this summer!   Get ready for an all-out DJ Revolution brought to you by DJ Dylan C and 'Glitch Hop'; the word is out!   I am a fan and simply put DJ DC is the man!   Skope out www.framednation.com and www.thedjdylanc.com for more info.
By Jimmy Rae (jrae@skopemag.com)
[Rating: 5/5]