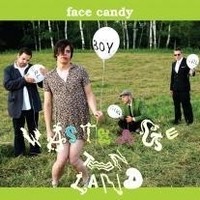 Man o man, where to begin on this one!   First off I'd like to pay my respects to Michael "Eyedea" Larsen who tragically passed away in October of last year.   Eyedea was the vocalist & frontman along with being the mastermind behind the creation of the four-man group.   Face Candy is his baby and always will be so just want to say god bless & god rest your soul.  
'Waste Age Teen Land' was the second release for Face Candy and the last record featuring the late Eyedea.   Rounding out the quartet you have Kristoff Krane on vocals, Casey O'Brien on bass and JT Bates on drums.   Hailing from the Twin Cities, this band comes with a sound that is so damn different you just gotta hear it to believe it!   The style is like no other as Face Candy invites you to be completely open-minded while you're taking it all in.   And believe me there is a whole lot to digest here folks so brace yourself!
There are 15 songs here that will make you question everything you ever knew or thought about music in general.   No titles needed as we simply go in a sequence that starts with the track "One" and ends with "Fifteen".   Face Candy starts it up with some trippy shit for your psyche "that sounds great" & "feels good" according to the Minnesota natives.   Up next you'll hear freestyle rap that's also poetic in form thanks to a well-versed flow & rhyme scheme.   The whole shebang is performed off beat which gives the listener that off-kilter feel.   This is all done on purpose and for a reason which is what Face Candy and this album is all about.   Face Candy is bringin' the funny and the serious all at once like on track "Six" where you're hearing silly jokesters in action and human beat boxing in full effect.   Then you turn around on "Seven" and Eyedea hits you with some lyrics that will really make you think: "It feels really safe but that's only because it's right now.   Put a candle in the sky and watch the sun get pissed off tonight".   C + C Music Factory said it best when they sang "Things That Make You Go Hmmm…" because that is exactly what's goin' on here.   On song "Eight" you'll get an instrumental complete with a nice jam session & light jazzy vibe to help get you in the groove.   On "Thirteen" I was laughing my ass off at how Face Candy was poking fun at that annoying auto-tune effect that saturates the mainstream Pop market of today.   It's a hilarious tale about going to Goodwill to find a lantern so that they can go fishing.   In the words of Lil John all I have to say to this is "WHAAATT!"   Continuing to go outside the box, Face Candy delivers an ambient & mellow texture on "Fourteen" that will leave you in a state of confusing relaxation.
There is so much to soak in here but I have to say that I'm highly impressed with Face Candy after it's all said and done.   These guys are new age hipsters and beatniks who deliver elements of jazz, rap/hip-hop, poetry, comedy and everything else in between.   No rules to play by and no guidelines to follow; Face Candy is just goin' off and goin' nuts for all to hear.   It makes sense now that the classic hit "Baba O'Riley" by The Who that includes the famous line "Teenage Wasteland" was conveniently jumbled around to form 'Waste Age Teen Land' for Face Candy.   Very clever boys!   The vocal & lyrical chemistry between Eyedea and Kristoff was spot on as the two members meshed it all together perfectly.   You even get funky bass lines from Casey throughout the record and JT sharp as a tact with his crashing drum set.   You get laughs, you get catchy rhymes, you get words that speak loudly, you get outlandish personality & attitude and most importantly you get music that doesn't always have to make sense.   Never judge a book by its cover otherwise you'll be missing out on a lot wholeheartedly applies to Face Candy and their new release.
When I think of Face Candy and their "Performance Art" I can't help but think of the innovative guru   who is Frank Zappa.   This group is just oozing with creativity & originality to the point where it's just ridiculous!   It's a real shame to hear about the loss of Eyedea but I have to say that he and his bandmates definitely made a mark with 'Waste Age Teen Land'.   So here's to you Michael "Eyedea" Larsen!
By Jimmy Rae (jrae@skopemag.com)
[Rating: 4/5]