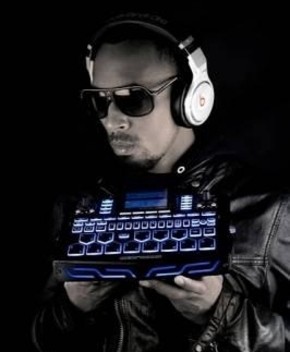 "We wanted everyone to be able to produce music the same way we do," says Dallas Austin of the idea behind the Beat Thang.   The Grammy-winning producer-songwriter-"keyboard fanatic" and owner of Atlanta-based Rowdy Electronics is introducing this groundbreaking mobile music-making machine through a joint venture with Nashville's BKE (Beat Kangz Electronics.) The Beat Thang will go on sale exclusively at Best Buy July 17, 2011 as a limited edition with a suggested retail price of $1,500.
[vimeo 23881021 nolink]
Dallas Austin is the man behind multiplatinum hits by the likes of Michael Jackson, Boyz II Men, TLC, Madonna, Pink and Gwen Stefani. At Austin's level, producing music the same way he does means access to a library of 3,000+ original sounds (live drums, bass, guitar, keyboards, strings, horns, Latin and African percussion); hundreds of beats, patterns and loops; 65 digital effects (EQ, compression, reverb, delay, filter, chopped, screwed, reverse record); sampling; waveform editing; and mixing and mastering functionality, among other marvels.