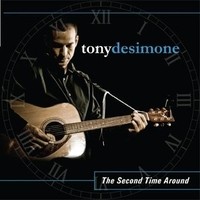 Tony DeSimone is a singer/songwriter & multi-instrumentalist who will impress the hell out of your ears.   The new album 'The Second Time Around' and Tony's music in general is said to have songs of "hope, love and dreams".   I would agree with that and further add that all 10 tracks on this record are highly impactful and chalk-full of real substance.   Tony DeSimone is a true artist with a distinct voice who is ready to take over the air waves.
Tony D not only covered all musical sections & lyrics but also produced the album alongside Grammy Award winning producer Anthony Newett.   DeSimone has recorded two EP's in the last two years with 'The Second Time Around' being his first full-length CD.   Obviously some heavy anticipation here but I would have to say that Tony D delivered!
The new record features elements of pop, country and rock all mixed together to make up one killer sound.   His vocal styling & tone also grab you because Tony's voice is catchy as hell.   This singer/songwriter appeals to the average listener because he writes & performs songs that work and sound great too!   Tony has honed in on his craft of music making & songwriting and now invites the world to bear witness to his art.
The title track supplies a wonderful acoustic quality along with such feeling that Tony D portrays flawlessly.   DeSimone sings & performs with such conviction where you will literally feel his passion being conveyed onto the audience.   On track five "Two Steps Back To You" you hear a pop-friendly tune that beats the hell out of the so-called popular crap played today on your mainstream radio/television stations.   Tony DeSimone and his new work are composed of actual talent & absolute meaning.   So…I am calling out ALL THE RADIO/TV STATIONS TO GET THIS GUY IN YOUR ROTATION NOW!!!  
I couldn't help but notice a Bono-like quality & U2 vibe on certain songs.   I pointed out three, among others, that I thought heavily displayed this effect:   "Mississippi (Burning)", "Once In A Lifetime" and "River Mercy".   The U2 and Bono resemblance was so dead on where I thought to myself 'man, I would love to hear a U2 cover because I know Tony would do it justice'!   Maybe on the next one?   I do have to say though that you want to be careful to not imitate too closely because then it appears you're not being 100% true to yourself.   You want to be recognized as ONE artist at the end of the day and not as a U2/Bono cover band so just sayin' to proceed with caution.
Overall, I really loved this record because it had an excellent feel and offered up a musician who I can't say enough good things about!   'The Second Time Around' supplies you with 10 chart-worthy tracks that I would recommend to anyone!   I'm just surprised this Tony DeSimone isn't big and on top already based on this high-quality recording.   I am definitely a Tony D fan now and I'm sure you will be too!   I can not wait to see what this singer/songwriter & multi-instrumentalist comes out with on the next time around!
By Jimmy Rae (jrae@skopemag.com)
[Rating: 4/5]