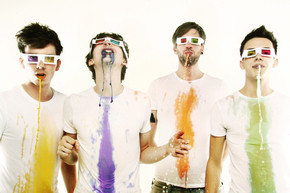 It's always fortuitous when the name of a band allows for a hyperbole-laden headline that borders on yellow journalism. Kind of like the one above. But in all seriousness, the UK indie pop outfit Scams are set to release their new four-track EP in England and Germany to much awaited fanfare. Thanks again to Skype, I caught up with the guys in Germany where they gushed about the merits of honesty, the fickle nature of the European record industry and were at "no loss for words" about their upcoming release, Lost For Words.
The beginning of Scams as they are currently, ironically started with an ending. When creative differences began to bubble up, some members exited leaving Andy Morgan in search of a new band to surround himself with. After relocating to Leeds, the move brought the current lineup together and Scams was born with front man Andy, Jamie Macneal on guitar, Adam Fenwick on bass and Daniel Harvey on drums.
And while the guys are quick to admit they have come together with different musical tastes and influences, they are equally committed the to notion of cohesion and collaboration they find themselves within.    
"I'd say I come from more of a composition background," said Andy. "It's getting the music down first and try to write the lyrics afterwards. A lot of songwriters tell us that's a strange way to go about it, but I think we got a lot of good melodies out and our music is really based on melody."
The interesting part of the Scams approach to songwriting comes almost in a reverse fashion than one would think. Instead of starting simply and building layer upon layer, their offerings start complex and then go through a whittling away process. "We all write a song together and then chop a bit out, chop a bit out," he said. "It always seems to be really complicated at the start and then we'll say: 'Well, there's no need for that, there's no need for that' until we get it down to its bare basics. It's a no bullshit approach, really."
And thematically, "no bullshit" is a vein that may represent the ethos of the band as a whole. "There is so much bullshit in the music industry," Andrew commented. "There are so many bullshit ways that people deliver music and just see it as a product. I think if you just write the music and play it well, the music can speak for itself without the need for any bullshit."
But the honesty theme permeates further than just the band's mentality–translating onto the actual album itself. "It was really helpful recording with Johann [Scheerer of Clouds Hill Studios, Hamburg] in Germany because he was so strict," Andrew said. "I don't know if that is just the German mentality but he said 'we are going to do things the old fashioned way' so we recorded on tape, with all of us live in a room and that was that. There were no multiple takes, like I would play the guitar one time and I wasn't allowed to play it again." It was like: 'OK, that's it; we got it. That's the way you played so that's the way it has to be.'"
The first release of the album was in their German fans in March. There the album is in its 12-track, full form under the name Rewrite Fiction. While in the UK and the rest of Europe the album was whittled to two EPs with the first, Lost For Words, just released this month. "The UK market isn't really an album market. When you look at the CD sales to downloads ratio, its really about songs," said Adam. "It's much more into singles and EPs, so that was one of the main reasons for creating and releasing two EPs." "We basically took what we felt were the eight strongest tracks from the album and broke them down into two EPs," Andy continued. "The first, Lost For Words, will feature the track "Lost For Words" as the lead single with three more tracks with it. The second will be the same format."
The single "Lost For Words" opens as a pop rocker with soaring guitar work. The riff sounds a bit reminiscent of Angels and Airwaves with Andy's vocal delivery standing at the foreground of the song. Clever lyrical matter touches upon the way "there are never enough words to properly describe anything that one would ever need to say." In keeping with their "no bullshit" mantra, much of the lyrical matter is in this vein– deeper and ethereal rather than simple words to fill a space of music. The second must listen to is "Youngblood" which again opens to intricate riff work and vocals, yet builds to its fever pitch chorus. Bolstered by machine gun snare work and a dancing bass line that serves as an undercurrent foundation. All in all, this is simply fresh and contemporary Brit pop rock at its finest and with their far-reaching sound, Scams is sure to pull a myriad of fans from several camps of listeners.
Andy said in conclusion: "We're just an English band and we don't try to be anything other than ourselves."
By: Chris West – cwest@skopemagazine.com