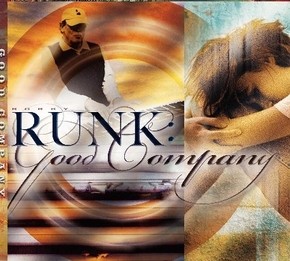 Before we get started today I must admit that I hold a bit of envy for my next guest. Bobby Runk is an older musician who is truly "living the dream." He loves music and loves golf and has created a life where he can do both whenever & however he wants. Bobby has two albums out right now and both reflect his passions. The first is 'Good Company' and the second is 'Music To Shank By' which he put out under his group The Mighty Mulligans. Join us this weekend and whether you love music, golf, or both we have something for you. Bobby opens up about everything from where he records, family, "Little Pink Balls," and much more!
Stoli: Where are we talking from today and are you getting excited for spring?  
Bobby Runk: I AM IN NORTH CAROLINA. LOVE IT HERE.
Stoli: As an older musician with a secure financial situtaion, would you say that you can create music without the pressure of fortune and fame?
Bobby Runk: YES!
Stoli: What two musicians would you say had the most influence on the kind of music that you make?
Bobby Runk: THE BEATLES, OF COURSE, AND RANDY NEWMAN, AND ROY ORBISON. (WHOOPS! THAT'S THREE, ISN'T IT).   HERE'S A DESCRIPTION OF MY MUSIC CULLED FROM THE REVIEWS:
Bob, your music is "Music for Adults."   Songs you won't forget. Classic Rock with a contemporary twist: Jimmy Buffet meets Randy Newman in a Reggae bar with Beatles-loving Tracy Chapman fans, one of whom is dating an Eagles groupie who loves BoogieRock, Chopin, Billy Joel and Orbison:   "All I Want Is Some GOOD COMPANY!"   I LOVE this stuff, Bob.   The music makes me feel good.
Stoli: Your album 'Good Company' has got amazing reviews. How does that feel and were you expecting such a huge response?    
Bobby Runk: IT IS REALLY GRATIFYING, AND I DID NOT KNOW WHAT TO EXPECT.   I KNEW I WAS A GOOD SONGWRITER, BUT … THE CRITICS CAN BE TOUGH!
Stoli: Where did you record 'Good Company' and how long were you writing that album's songs?
Bobby Runk: I RECORDED IN BLOOMINGTON, INDIANA, AT AIRTIME STUDIOS. THIS IS THE FAVORITE STUDIO OF MY PRODUCER (GARY KATZ OF STEELY DAN FAME) AND THE VENUE IS TERRIFIC, VERY CONDUCIVE TO A CREATIVE RESULT; AND DAVE WEBER, THE ENGINEER AND STUDIO OWNER, IS ALSO A GREAT MUSICIAN, WHICH I THINK IS A VERY POSITIVE ELEMENT WHEN YOU'RE CREATING IN THE STUDIO.
[youtube WJkDIiadaKU nolink]
Stoli: Why did you choose the song 'Good Company' as your title song and what is the meaning behind that song?
Bobby Runk: MOST PEOPLE LOVE THAT SONG.   AND I LIKE THE SENTIMENT EMBODIED IN THE LYRICS, WHICH IS "YOU DON'T NEED THE SUPERFICIAL THINGS IN A RELATIONSHIP.   "ALL YOU NEED IS GOOD COMPANY."
Stoli: Where and when can fans see Bobby Runk perform live anytime soon?
Bobby Runk: I WILL LET YOU KNOW! RIGHT NOW, THE PLAN IS NOT TO DO LIVE SHOWS UNTIL THE FALL.
Stoli: Besides music you are an avid golfer. You have created The Mighty Mulligans to merge both passions. How did that come together?
Bobby Runk: YES, I ENJOY GOLF.   I HAVE AN ATTITUDE OF ACCEPTANCE REGARDING THE GAME.   I HAVE FINALLY REALIZED THAT "THE BALL GOES WHERE YOU HIT IT" NOT WHERE YOU WANT IT TO GO, AS IN LIFE IN GENERAL. J THE SONGS WERE WRITTEN, PRODUCED AND PERFORMED BY MY FRIENDS MICHAEL MUGRAGE (WHO HAS PRODUCED SOME OF THE SONGS ON MY SECOND ALBUM, TO BE RELEASED IN JUNE) AND REX FOWLER (OF THE JOHN LENNON PROJECT) WHO ALSO TRY THEIR HAND AT THE ELUSIVE GAME. THEY CREATED THIS SERIES OF CLEVER SONGS ABOUT THE GAME AND WHEN I FOUND OUT ABOUT IT, I SUGGESTED WE PACKAGE IT AND SELL IT ALONG WITH MY BOOKS SPOOFING THOSE 'GOLF INSTRUCTION MANUALS"   MY BOOKS ARE ENTITLED HOW TO LINE UP YOUR FOURTH PUT and WHEN TO REGRIP YOUR ALL RETRIEVER, at www.4putt.com!
Stoli: I love your song "Little Pink Balls." Please explain…  
Bobby Runk: THAT'S MICHAEL'S AND REX'S TUNE ABOUT LADIES DAY GOLF!
Stoli: As a parent how do your kids feel about your music and do they play too?
Bobby Runk: THEY LIKE IT, AND IN FACT MY SON IS AN EXCELLENT SINGER, AS IS HIS WIFE, AS WELL AS A GREAT GUITARIST.   THEY WILL BE ON MY SECOND ALBUM TOO!
Stoli: Would you say you are a better golfer or musician?
Bobby Runk: MUSICIAN, HANDS DOWN.
Stoli: What is coming up for Bobby Runk/The Mighty Mulligans and where can we follow you online?
Bobby Runk: KEEP YOUR EYES PEELED FOR THE SECOND ALBUM, AND …
RUNK ROCK:                                  
http://www.cdbaby.com/cd/bobbyrunk
FUNNY GOLF BOOKS:                  
http://www.4putt.com
MIGHTY MULLIGANS:                  
http://www.cdbaby.com/cd/mightymulligans