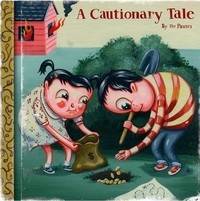 There's no doubt that the three members of Orlando's The Pauses have the ability to write some fresh-sounded and at times, perky pop songs in the vein of Rilo Kiley. Some of those tunes even appear on A Cautionary Tale. However the title of this three piece's debut is quite deserving: the album is just that: a cautionary tale on recording a debut.
Enlisting pseudo-mega producer J. Robbins to record A Cautionary Tale, The Pauses are now presenting themselves in a not entirely truthful light. Yes, there are bouncy (And very, very safe) pop-rock tracks that gleam with promise, including the catchy "Go North" but for the most part, there are tracks that will likely leave listeners to wonder what could have been. A Cautionary Tale is an overproduced and ultimately disappointing release. "The Leap Year" is drowned in unnecessary electronic tinkering and "The Migration" sounds choppy and overthought, taking away from what could have been a graceful pop song.
As mentioned, there are moments on A Cautionary Tale when the band succeeds in letting their bright brand of pop-rock speak to listeners. But in the future, it would be better for the band if they exercised a little more vision in the right path for their songs.
By: Joshua Kloke – joshuakloke@hotmail.com
[Rating: 2.5/5]