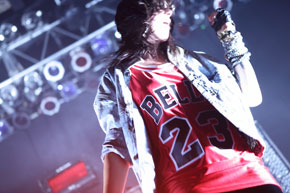 The wall of amplifiers hinted at what was in store for us. If you know anything about the bands Sleigh Bells and CSS you know that they both operate at a higher volume than most and bring a signature energetic showmanship.

These facts made the following necessary: earplugs because it would be loud,   sneakers because you would get down and a camera because these guys and gals put on a hell of a sexy show and who wouldn't want to take a little of that home with them.
The overnight indie sensations Sleigh Bells are Alexis Krauss and Derek Miller. A pair of throwbacks who mix eighties fashion sensibilities, rock star sneer and electronics souped-up to gratuitous levels. They take cues from the early bass-in-your-face days of the Beasties Boys. This all amounts to a wicked sound. Something even the most limp-wristed art wanker can safely pump in his car and still retain his hipster status. The band released the one and only full length Treats which has enjoyed phenomenal success in the underground scene. It's even afforded them some exposure in mainstream media like this Honda CR-Z commercial http://www.youtube.com/watch?v=UAmoSf5NDgU
The minute the pair hit the stage they were like excited atoms speeding around. The beats, as expected were relentless, smacking you in the face while you took it eyes wide, smiling. The crowd was ecstatic, hoping around, dancing wildly, admiring the anarchic youths on stage. Krauss's girlish and breathy voice floated over the aggressive beats. Electro beat genius boy Miller pushed the volume to the levels of distortion as is heard on the album. It's all an infectious wave that penetrates the pores. Miller added in some vicious guitar chords on top of the bombastic instrumentals.
Krauss was dressed in a Sleigh Bells red and black jersey with a denim jacket and skin tight black vinyl pants. Gold and silver bracelets stacked up more than half way up her forearm.   Krauss's head and arms swaying enthusiastically in all directions with her hair swinging to and fro. Occasionally Miller and Krauss would come together like whizzing electrons and bounce off each other – Miller smilingly coolly, with eighties style neon sunglasses, hunched over his guitar and Krauss flipping her hair wildly as she danced. Somehow in all the jumping around Krauss smacked her head and started bleeding. She announced that she had hit her head and got a towel from backstage. She was undeterred and kept on through several more songs before ending the set.
Headliners CSS or Cansei de Ser Sexy which means "tired of being sexy" are a Brazilian dance punk band with a  kitschy and quirky electro pop vibe. They hit the stage with the same enthusiasm especially the petite front woman Lovefoxxx. The animated and diminutive Lovefoxxx made her appearance on stage donned in a matador inspired costume. She changed outfits several times finally ending up in a black leotard.
She was irreverent, goofy and simultaneously sexy. She showed confidence as she danced around on stage singing her off beat lyrics to the catchy hooks. The band made great danceable instrumentals and the crowd was elated, moving frantically to the upbeat music.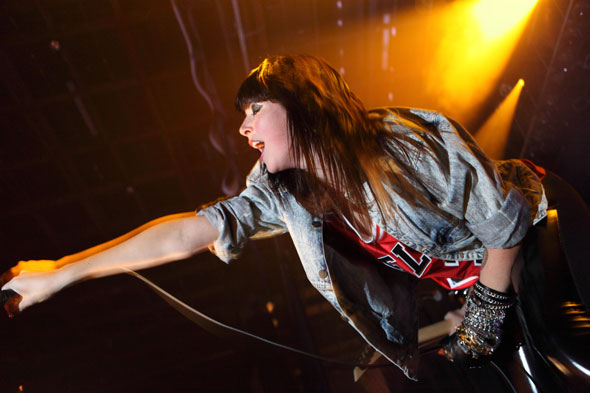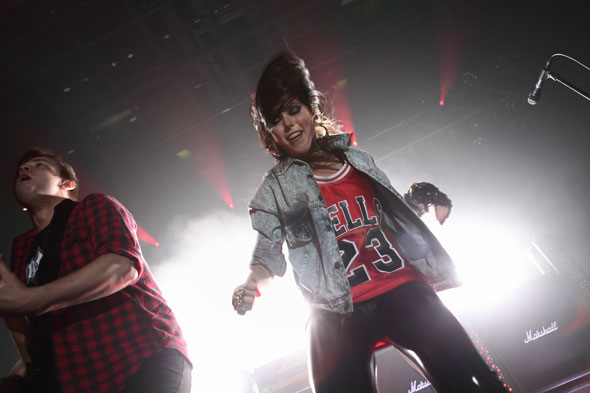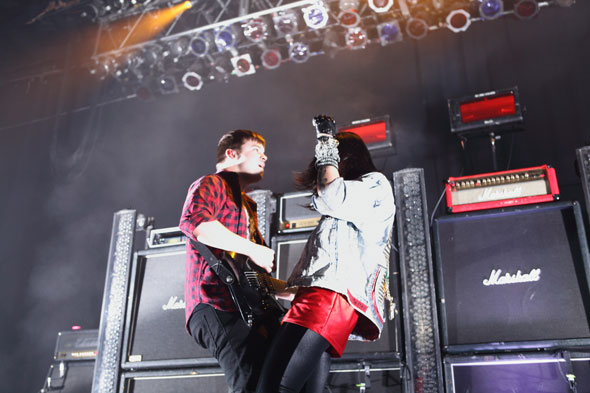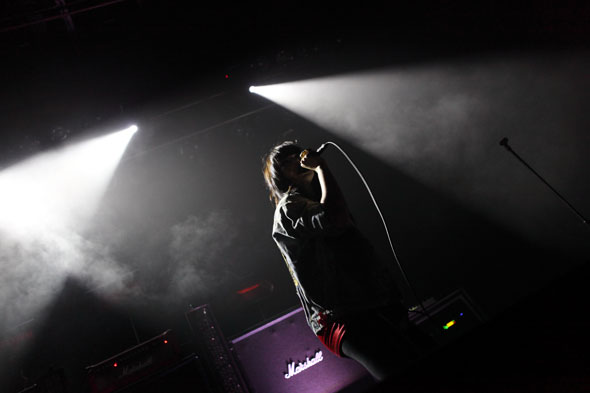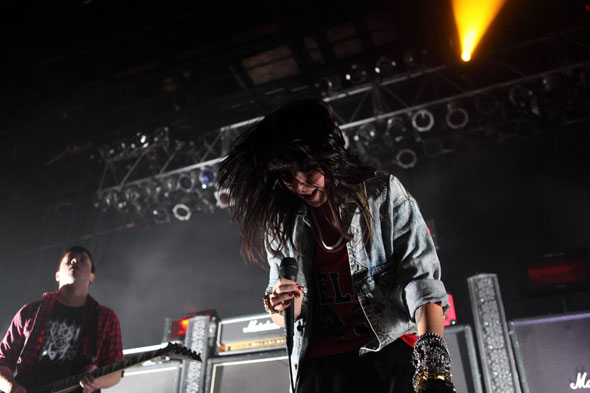 Sleigh Bells Setlist
Iron Man (Black Sabbath cover) (Intro)
Crown on the Ground
Tell Em'
Kids
Treats
Riot Rhythm
Infinity Guitars Play Video
Holly (Note: Alexis Krauss starts bleeding from her head)
Rill Rill
Rachel
Straight A's
A/B Machines
BONUS: CSS "Let's Make Love and Listen to Death from Above" LIVE