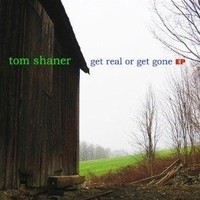 Tom Shaner is a multi-talented artist who has written over 300 songs in his career so he is no stranger to the music scene.   Shaner is a singer/songwriter & performer who dares you to 'Get Real Or Get Gone' on his new EP.   Prior to this solo release, Tom played in a band called Industrial Tepee where they did three albums together.   'Get Real Or Get Gone' is actually a teaser for his full-length debut album coming out soon.   Shaner's latest efforts were recorded mainly in Mother West Studios in New York City by producer Charles Newman but also included other unique spots like: Ireland, LA's Topanga Canyon and his friend's 19th Century home in Vermont.   Not to mention, the NYC-based musician has also dabbled in: musical screenplays, films, directing videos and live theater projects.   With all of this exciting & rich hoopla surrounding Tom Shaner, I can not wait to hear this EP and the upcoming release!  
Right away on the title track you sense one convincing voice that draws you in instantly.   The male-female duet on this track was also a nice edition that added a refreshing layer to the whole mix.   You get some dreamy folk rock on "Unprotected Heart" and then Tom picks up the pace on "Waiting For You" with a lively, up-tempo number.   Shaner ends with a timeless & elegant piece on "Waltz 13" where the listener really gets a sense of a true artist performing.   Tom actually refers to his music as "Ghost Songs, Waltzes and Rock and Roll" which makes sense due to the musical diversity displayed on this seven-track set.   Plus, you can tell from Tom's lyrics that he is deep in mind & thought which carries over into the songs.  
The content, the voice and the words ALL WORK as Tom Shaner plays perfectly to the sounds of classic & modern influences.   The style is indescribable as you will just have to hear it for yourself.   'Get Real Or Get Gone' has got substance like you can't imagine and it proves that Shaner is dead serious when it comes to creating music that sounds good and makes sense.   I'm looking forward to hearing the new record and I am definitely a Tom Shaner fan now–make it shine!
By Jimmy Rae (jrae@skopemag.com)
[Rating: 4/5]