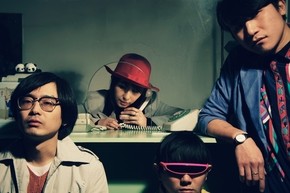 One of the great things about living in a large metropolitan area, such as Tokyo, is that due to the size, you can find almost as much musical variety in one city, as you might find in another small country. Japan, specifically, is currently the second largest consumer of purchased music, so this also adds to foreign artists desire to play here. Musicians from all over the world, both major label and independent, often come to Tokyo to see how they might fare in this market. Just as well that they do come, because many Japanese listeners are interested in foreign music.
I must tell you, that does not mean the audience here is eagerly buying up anything "Western!" Currently, the Japanese market seems quite interested in music from other Asian countries; specifically Korea and China. There is a whole K-pop frenzy here among teen girls: quickly buying up CDs, idol photos, and key charms from their favorite Korean "boy-bands!"
Another musical interest of many is Chinese rock. Not C-pop or Chinese idol groups, of which do exist…but an interest in actual "raw," fresh, honest, rock from China. A few bands from China have come to Tokyo, Osaka, and Fukuoka for shows in the past and were well received. Recently, I went to Beijing China and met with some musicians and independent label people to talk about their performance in a "China Rocks Japan" show.
The birthplace of "Chinese rock" was in Beijing. As the nation's capital, the music was originally highly politicized and also open to a range of foreign influences. It was fairly fringe for most of the 80s, and live performances in very small bars and some hotels. At the time, university students and "underground music" circles were the usual audience. In the late 80s and early 90s, high-school kids, finding bootlegged copies of American and British heavy metal and punk bands, started their own brand of Chinese rock which combines elements of these metal/punk styles, with earlier rock, and the influence of traditional Chinese music. A sort of Chinese post-punk, post-modern rock was conceived, and continues to grow now.
One of the most well-known "rock" bands in China is New Pants. Within their country, they consistently perform to large crowds at music festivals, sold-out shows at various live houses, and do know that millions download their music. (China is seen as rather lax in their enforcement of anti-piracy laws, so while the band knows their songs are heavily downloaded, they see only a very small amount of income from sales of recorded music.)
The band was formed around 1995 by four, or five (depending upon the storyteller), boys who had been friends for years, who thought that being in band might be a cool thing to do. Their early music was influenced predominately by the Ramones, with a few New Wave elements thrown in. some of their earliest recordings consist of spot-on Ramones-esque posturing and pouting, along with aggressive power-chord heavy guitar. Recently, their sound has melded a 1980s sort of disco feel with that foundation of punk, thrown in some modern synth work, to create their signature style.
I'd like to spend time telling you how Peng Lei is the aural equivalent of Chinese filmmaker Xhang Ximou, in his bending and crafting of traditional and modern elements. He makes something so specifically Chinese, yet with appeal and meaning to those outside. I'd like to tell you that Pang Kuan is the eclectic offspring of a Beasties Boys /Duran Duran drunken mating.
Instead, I will tell you that New Pants is the first band EVER from mainland China to be invited to a major US music festival. They will play Coachella this year on April 17th. In fact, the festival has never invited an Asian band from anywhere to play. (Dear Tokyo, please nurture a band that will be invited to a major US music festival!)
So, is New Pants the coolest band from Asia? Have they now themselves, become the "father" of future Asian rock? Of Chinese rock? Or of music in general? A short interview with Peng Lei, in which none of those questions was asked: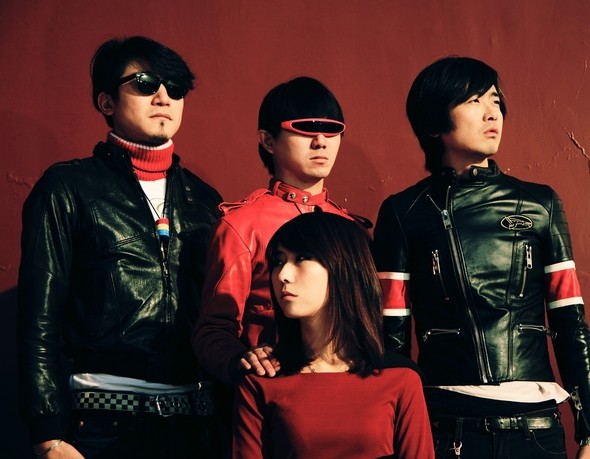 Skope/Apryl: Who or what inspired you to become an artist? How or in what way?
PL/Peng Lei: In 1990's China, we suddenly heard many heavy-metal foreign bands, and we felt they were very cool and we had a good feeling from the music. Several of us tried to make a heavy-metal band, but we quickly found it was more difficult than we thought it would be. It actually requires good skills to play heavy-metal, and we were such amateurs at playing guitar…then we heard a band called Ramones. We felt that while their style was good, their playing skills were quite simple, so we felt we could actually do something similar. That's when we started our band from the Ramones type of old-school punk concept.
Skope: What do you enjoy doing when you are not performing or working on your music?
PL: None of us really like going out to large crowded events or big parties. We don't really spend too much time in outside society. For me, I like pets.
When I'm not working, I am taking care of 5 cats, 6 turtles, and a salamander
Skope: If you weren't "New Pants," what type music would you be playing, or would you even be in a band?
PL: Ah, maybe…I would try heavy-metal again. But I can't say for sure I would even be in a band if I weren't part of New Pants.
Skope: Do any of you have, or plan to do a "solo" music project? If so, what is the style or feel of that project?
PL: I think Pang Kuan has thought about it, but his side projects and ideas are in style much more alternative or less popular than New Pants. He makes something more like "pure" midi music, with a very 1980's feel
Skope: How has your music or style evolved over the years, and why?
PL: In the beginning it was very much Ramones type of old-school punk; then our first drummer decided to pursue some other opportunities in Japan. Well, we had no drummer, so we turned more electro. We had no choice but to use electronic drums! The synthesizer then took on a major role, and we were attracted to elements of disco and new wave. Even after finding a new human drummer. We kept those elements. Recently, our music could be called synth-pop, but with elements of localized Chinese music or feeling.
Skope: What other mainland China bands do you recommend? What music in general do you recommend?
PL: I'd say that Re-tros is the best post-punk band in China.
Skope: What band or musician do you actually like, yet might be embarrassed to admit to liking?
PL: Of course I like Ramones 'New Order' and Joy Division. Even Pet Shop Boys, and I'm not embarrassed to admit it!
Skope: Who do you want as your fans? (Do you want to appeal to only a certain type of person or music fan?)
PL: I really just hope that the everyday person in China will like, appreciate, and feel our music.
Skope: Is there a strong point, idea, or feeling that you want your music to get across to listeners?
PL: No deep political meaning. We just hope the listeners can feel our attitude towards life!
****
Will New Pants come to Tokyo? We can only hope; it is being discussed. In the meantime, those of you on the shores of the United States have opportunities to see them live as they perform in the US for the first time:
April 17th, 2011, Sunday — Coachella Music Festival, Indio CA
April 18th, 2011, Monday — The Mercury Lounge. NYC
April 21st 2011, Thursday — The Brooklyn Bowl, Brooklyn NY
By: Apryl Peredo – inter.idoru@gmail.com