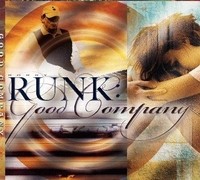 No question about it that Bobby Runk is in good company with the rest after hearing his debut album.   Runk handles lead vocals, keyboards & synth on the new record and this CD is produced by Steely Dan's own Gary Katz.   Not to mention Bobby has a terrific backing band that helps Mr. Runk bring his music to life.   'Good Company' will definitely hit you right away and will hold your attention throughout the 11-song set.  
There are so many aspects here that impressed the hell out of me and so hat's off to Bobby Runk & his team on a very successful effort.   If it's not the distinct vocal delivery that gets you then maybe the catchy melodies & harmonies will grab you.   Whatever it is, Bobby Runk is sure to please with his infectious flavor.   Runk opens up with a song titled "Come Rest Your Head" where you hear a classic rock vibe mixed with a splash of country.   This classic rock & country approach carries on throughout the record but Bobby puts his patented Runk spin on each performance.   That's what makes this artist and this album so special is that Bobby Runk has his own unique swag & style which comes   across loud & clear on 'Good Company'.   Runk is even able to tap into pure emotion & feeling where the listener will really be in tune with Bobby's messages.   Connecting with an audience on an emotional & musical level is what Bobby Runk has done here and that's a beautiful thing!   I can't get enough of the original vocal stylings that just seem to work perfectly for this type of recording.   And the style of sound is just so cool where you are getting fun-spirited & feel-good tunes all the time!   Throw in some rockin' guitar parts from Chris Goercke and now it's a party!
The shifting in moods from song to song is highly evident and played to extremely well.   I just can't get over how everything seemed to fit together perfectly for this project.   One song sums up exactly how I felt after hearing 'Good Company' in full and that song is "Jimmy Had A Smile".   Smiling inside and out as I am now a Bobby Runk fan and I urge others to jump aboard.   Runk makes it all work and this album works on all facets; enough said!  
By Jimmy Rae (jrae@skopemag.com)
[Rating: 5/5]