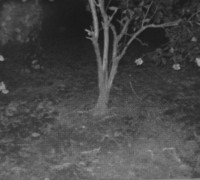 A good number of singer-songwriters face the pressure of trying to prove their worth through their craft. Very often, these artists go overboard in their efforts to be heard. What listeners are left with is a jumbled effort that only scratches the surface of the songwriter's true gift.
Jon McKiel didn't make these mistakes. Instead, on Confidence Lodge, his latest EP, McKiel keeps things simple and adheres to a time-honoured tradition: if there's an honesty within the songs, then there's no need to mess with them. McKiel's ragged, bare-bones approach presents itself with sincere folk sensibilities, all the while getting its groove on with a patient, slow-burning mantra. The five tracks on Confidence Lodge clock in at just over sixteen minutes, but there is a resilience within tracks like the chugging and minimalistic "Rupert (May 18)" and sparse pop of "Motion Pictures" that does not go quietly into the night.
"Songs At Night" is a perfect title, giving weight to the comparisons McKiel has been garnering, from Chad VanGaalen to Hayden. McKiel's general aesthetic is not a complicated one; it is for this very reason that you will find yourself coming back to his (At times) tearful but (Always) uplifting musical force more often than not.
By: Joshua Kloke – joshuakloke@hotmail.com
[Rating: 4/5]