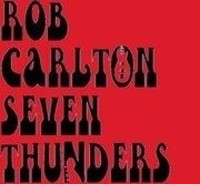 2011 looks to be a great year for guitarist Rob Carlton as he was recently engaged, has a hot new album out and many exciting shows booked up!   Not to mention, Carlton has also signed a new distribution deal with Musik and Film Inc/Full Entertain Music Inc (MAFFEM).   And now following up his 2009 album Beautiful Collision, which I gave 5 BIG Skopes, RC unleashes 'Seven Thunders' on you.  
The new record offers the listening audience seven brand new songs that rock hard.   All instrumentals on 'Seven Thunders' as you can really get a sense for Rob's passion for the guitar.   Rob makes it feel absolutely effortless as he shreds through each chord.   I have so much respect for Rob as a musician and for his gift that he his showcasing to the world.
[youtube dwm9Wi10KuE nolink]
You really sense a deep appreciation for rock music and for the guitar as you listen to 'Seven Thunders' in full.   Rob Carlton proves that he has got just the right skills to pay those bills or at least I think so.   Right out of the gates on the title track, the song is rockin' steady with RC showing that he is a beast on the guitar.   Carlton starts things up with an insane amount of energy & momentum that can not and will not be denied!   Rob has the pedal to the metal early on and he continues to accelerate all the way through with no signs of stopping or breaking.   All I can say is that Rob is simply on fire as his guitar is literally catching flames which can not be contained.   Track five "Regeneration" is a perfect example of this where Rob just goes off and tears it up nicely.   Rob's a bad man when he has a guitar at his side; the stringed instrument seems to give him super strength & power.  
I have to say that I really loved many of the catchy riffs Rob displayed like on "Black Jack" where your eardrums will be smiling for sure.   I'd also like to mention that Rob's backing band was great as well with the drummer Curt Morris really standing out to me.   The drums & guitar were definitely on the same page and completely in sync with one another.   It was also nice to hear Rob bring it down a notch on two short acoustic sets, "Reconcile" and "Circles".   The acoustic playing was just as sharp as Rob's electric guitar strumming and that's why I wish those two tracks were a bit longer.   And as a BIG fan of acoustic guitar, I wouldn't have minded another track in that realm.   And I gotta be honest when I say that I was aching & hoping for at least three more songs to make it an even ten.   Two killer electric rock numbers and one solid acoustic set added to the list and there you have it!   The album ends on a fitting note with "Unfinished Business" where Rob came to play and played to conquer.   Hail the victor Rob Carlton!
Here are just some of Rob's current achievements:  
-Performed with Blue Oyster Cult, Zebra and Cinderella
-Performed at GMA, CBGB's and Sherman Theater
-ASCAP award-winning songwriter
-129 Sonicbid Gigs Booked
-Featured in Guitar World (practices with Jimmy Brown regularly who is the Senior Music Editor of GW) and Guitar Player Magazines
The title track 'Seven Thunders' can now be heard at radio stations all over the U.S. And Canada thanks to GRIT PR who promoted the single's release.   Rob has an awesome show coming up on April 17th   which is the Guitar Clinic at Guitar Con in Fitchburg, MA.   Then, toward the end of May Rob Carlton will head to Nashville for an Extreme Tour Showcase at RocketTown Club.   He will also be appearing at the Fox Theater in Atlanta for a 10 year anniversary show for 9/11.   Sounds like Carlton has a busy & exhilarating schedule ahead of him and all I can say is sky's the limit!   I stand by what I said already by referring to Rob as "the real deal guitar hero" and would like to add to that by saying Rob C is a rock guitar junkie.
Rob Carlton "I Know What It Feels Like" MP3:
You can get your hands on all kinds of cool stuff right here at the Rob Carlton store exclusively through Skope: http://skopemag.com/category/merch/rob-carlton-store.   One thing is for certain and that is that 'Seven Thunders' should be in your music collection right now!   For more info on this guitar maestro from East Stroudsburg, PA, here are some other sites where you can find Rob at:
http://www.myspace.com/robcarlton
http://www.sonicbids.com/robcarlton
http://www.facebook.com/people/Rob-Carlton/686461278
http://www.amazon.com/Rob-Carlton/e/B000APNDAE
http://www.jango.com/music/rob+carlton
http://www.reverbnation.com/robcarlton
By Jimmy Rae (jrae@skopemag.com)
[Rating: 4.5/5]