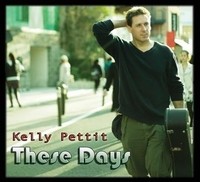 Kelly Pettit is a guitarist/singer/songwriter originally from Canada but has spent recent years traveling abroad touring around Japan. Like many new artists Pettit relies primarily on a ballad to rock format & other heart throb skill sets to get his point across. Music will remind you of Train, Plain White T's, Maroon among others.
To be quite honest I half expected to be bored to tears (due to a recent gaggle of singer songwriter guitarists) flooding the market. All trying too hard to be the next big heart throb, all missing the mark completely. To say the least I was pleasantly surprised. Honesty is the best policy when it comes to songwriting & Pettit delivers 10 fold. Like the artist in question there's a lot to like about this release. Pettit has a good voice, & command of amazing songwriting & solid song content. But probably his strongest attribute is his ability to reach out & touch the listener with everything he does. He's got the look & like a powerful drug his music will suck you in & never let go.
These days by Kelly Pettit is one of the best new releases I've heard this year. The more I listened to him the more impressed I got. Let me go on record to say Kelly Pettit's music is pure gold. He's definitely an artist to watch in 2011.
By: Michael Smythe
 
[Rating: 5/5]