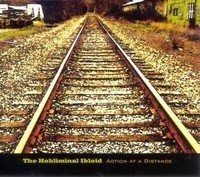 Forget what you've forgotten about the genre "electronica." It is a broad and sweeping genre and the label itself rarely tells a listener anything about the nature of an album, save that at least some of the music will be generated "electronically." On it's face, electronica is as representative of the mysterious "clicks and clanks" of Portishead as it is the fever pitch tempos of a Chemical Brothers album. Action At A Distance is neither of these, but then it got me thinking… "What else could you possibly call this?" So, I suppose this is representative as well.
The foundation of Action is indeed its synth-driven cacophony of sound. But eschewing contemporary electronic outfits, Hobliminal Ibloid is more Jan Hammer than the frantic key pounding of say, The Crystal Method. Melodic at times and anthemic at others, the album progresses from track to track with a high degree of purpose and polish. Opening track "Expectation" features multilayered synthesizer and electric guitar interplay over ubiquitous drum machine. And while the "notes" provided by such machines usually sound too crisp and polished to be misconstrued as a "real" set, it matches the pristine guitar notes and synth progressions. "City Beat" features an up-tempo beat with twin synth lines laid over it– one moody; the other fleeting in almost guitar solo fashion. This could easily be a track from a Sound Tribe Sector 9 album. "Believe" opens to effects-laden guitar and intermittent, chimey backing keys. While this is definitely a "guitar" tune, the support lies with the channels of keyboard underneath, tying the track into a sort of paean you'd hear during the closing credits of an action movie (if that movie were something circa early 90s).
If your were to take a mash-up of 80s New Wave, the Fresh Aire series by Mannheim Steamroller and Harold Faltermeyer; you have Hobliminal Ibloid. And while there is a certain "Jen e sais quoi" about the album as a whole, there is without a doubt purpose, production and musicianship abounding here. It is eclectic, a bit retro and quirky at times but for a DIY-made album if there is any amateurishness about it, it is a very diggable amateurishness.          
By: Chris West – cwest@skopemagazine.com
[Rating: 3.5/5]